Vaccines could be offered to 40-49 year olds by mid-June
Health minister says that nightlife could return to Catalonia soon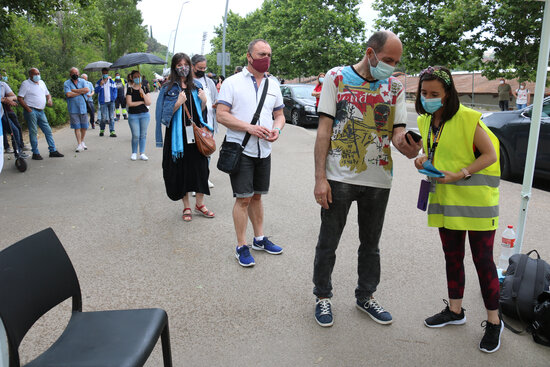 Catalan health authorities may be ready to offer Covid-19 vaccines to people aged between 40-49 by mid-June.
The newly appointed health minister, Josep Maria Argimon, wanted to avoid giving specific dates, pointing out that on occasion when new age ranges have been openly discussed, primary care centres have been inundated with calls.
However, Argimon said they will start "as soon as possible," and sources close to health authorities have told the Catalan News Agency that jabs will start for people in their 40s in two weeks.
The same forecast was previously made by the former minister of health, Alba Vergés, provided that the pace of vaccination continues as it has been going.
Regarding the vaccine strategy, Arginmon said that the Janssen jab is approved for use in people over 18 years of age and that it is already being administered in very specific cases, such as people in vulnerable situations or international aid workers that may not be in the country to receive a second dose.
Possible return of nightlife
Argimon also believes that nightclubs should be able to reopen soon, as long as it is done in a regulated manner, as this could reduce the number of people meeting in public spaces to drink at night.
Since the end of the nightly curfew almost one month ago, thousands of people have been gathering in spots such as the beaches and large squares, with police having to intervene and break up the groups.
The health minister also said they were considering extending the opening hours of bars and restaurants, hinting at allowing them to continue operating until 1 am. Currently, they must close at midnight.
The former health general secretary is in favour of allowing nightlife to reopen soon without suggesting any timeframe, and only as long as the pandemic indicators remain positive.
"Nightlife should open soon, we don't have a specific date, but we need to have regulated nightlife," he said in a media briefing.
He acknowledged that the opening of nightclubs will not totally prevent groups from drinking in public, but said it would "help" reduce the number. "Young people also need recreation," he added.