How will the new Covid-19 restrictions affect Christmas?
Check out our Q&A on measures in place from Thursday at midnight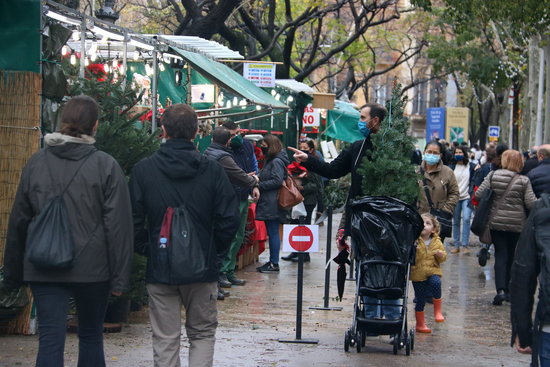 Christmas is just around the corner, but things aren't looking too good pandemic-wise. On Friday, only days after a new set of restrictions was announced, almost 15,000 new Covid-19 cases were reported, more than any other day since the pandemic first hit.
And as the Omicron variant continues to spread across Catalonia, where the 14-day incidence rate is at its highest since early August, authorities have advised residents to keep social interaction to a minimum.
Because some of the new measures — a 10-person cap on gatherings and the curfew — put forth by the Catalan government on Monday limit Constitutional rights, they had to be greenlighted by Catalonia's High Court before being implemented alongside all of the other additional restrictions. As they were given the go-ahead by the judiciary, they will all be in place from Thursday at midnight for at least two weeks – including Christmas and New Year's.
Here's a guide to how Covid-19 measures will impact this year's festivities:
Last updated December 24, 2021 at 16:37 CET.
Will I be able to get together with others for holiday parties?
Yes, as long as no more than 10 people are present.
Will I still be able to eat out?
Restaurants do not have to close, but there is a 50% capacity limit in indoor seating areas. Outdoor terraces remain unaffected. Covid-19 certificates are still needed to enter restaurants.
What about late nights out, including New Year's?
They'll have to wait if you live in a municipality with over 10,000 inhabitants and an incidence rate of above 250 per 100,000 residents as there is a 1 am to 6 am curfew in place. You can find out what cities and towns this applies to here.
In addition to this, the nightlife sector will not be allowed to open either.
How will this affect my Christmas shopping?
Stores can still open, whether they are considered essential businesses or not, but they have 70% capacity limits.
Will there be any other capacity limits?
Yes. Cultural venues, such as theaters, and gyms also have a 70% capacity limit, as do religious and non-religious ceremonies such as weddings or funerals.
Health passes are still needed to enter gyms.
Are there any other health and safety rules and recommendations I should know about?
Beyond socializing as little as possible, Catalan health authorities also advise people who can work from home to do so.
Face masks must be worn in all indoor places open to the public and outdoors anywhere across Spain as well, regardless of whether social distancing can be kept.

Certain population groups can already book appointments for their booster shots: people in their fifties, care home residents, those who are immunosuppressed, as well as people of any age who received two doses of AstraZeneca. Residents in their forties are expected to be able to do so shortly.
I live in Catalonia but I'm not registered in the Catalan health system. What should I do?
Anyone who is registered in a municipal 'padró' census is entitled to at least basic CatSalut coverage, which includes Covid care and vaccinations.
You can apply for a health card here. Once you have received a CIP number, you can request access to La Meva Salut, the website and app from which medical records – including vaccination certificates – can be downloaded and health queries can be made. You will also be able to book vaccination appointments online.
Vaccinations are only administered through the public health system.