Dr Bonaventura Clotet: Pan-coronavirus vaccine needed to tackle future variants
In interview for Filling the Sink, leading Catalan researcher says "evolution of virus could surprise us"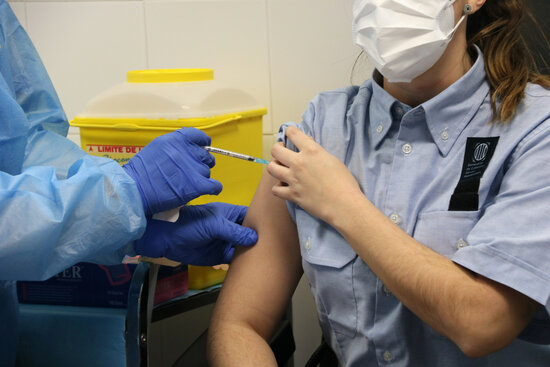 A powerful "pan-coronavirus vaccine" should be developed that would work against "all variants that could emerge."
That's according to Dr. Bonaventura Clotet, director of the IrsiCaixa AIDS Research Institute and head of the Infectious Diseases Unit at Germans Trias i Pujol University Hospital.
In an interview for the Catalan News podcast Filling the Sink, Clotet warns that "the evolution of the virus, with the variants that are emerging, could someday surprise us." Specifically, a variant could appear that wouldn't be "blocked or neutralized with the antibodies generated through vaccination."
Clotet says that we could have been better prepared for the current global pandemic if we had "paid attention to what coronavirus was telling us" after the outbreaks of SARS in 2002 and MERS in 2012.
'One Health' approach
The leading Catalan researcher also advocates a 'One Health' approach, where human health is considered alongside animal health and environmental issues. As the majority of infectious diseases stem are zoonoses – caused by a pathogen that jumps from animals to humans – Clotet argues that more funding should be made available to fund this type of wholistic research.
"We have to allocate more money to animal health and human health combined, to develop vaccines for the future."
"In fact," he adds "research has shown that there are bats harboring variants of the coronavirus" that will not be effectively cured by the vaccines currently available.
Close schools if UK variant spreads
Clotet also explains that he believes schools should close if the British variant starts to spread.
"My advice is that we should try to introduce some markers or indicators, a threshold," he says, suggesting that "when one in ten schools has cases with this new variant detected, then we should close all the schools."
Noting that evidence seems to suggest that the new variant is more contagious, including among children and adolescents, Clotet says the virus could spread in schools and then to pupils' families, which could have grave consequences.
"This could be even worse than the first and second waves, " he says, and warns against waiting until the situation becomes unmanageable.
Catalan Covid research
In the interview, Clotet, who in 2016 received one of Catalonia's highest civil distinctions, the Creu de Sant Jordi (St George's Cross), also highlighted some of Catalonia's scientific contributions to the global effort against Covid-19.
He said his team were "very proud" of their major study published in the New England Journal of Medicine that found that Hydroxychloroquine does not prevent Covid-19 infections or alleviate symptoms of the illness.
Clotet also cited the work of his colleague Oriol Mitjà in researching the potential use of rapid tests in helping to facilitate the return of cultural events. As part of the research, 1,000 gig-goers at Barcelona's Apolo took part in an experiment to investigate how events in enclosed spaces might go ahead safely during the pandemic.
You can listen to Dr Bonaventura Clotet's interview for Filling the Sink below.