Curfew in Catalonia: check out our interactive map and Q&A
7-day measure with up to €6,000-fines for non-compliance affects 6 million people in 161 municipalities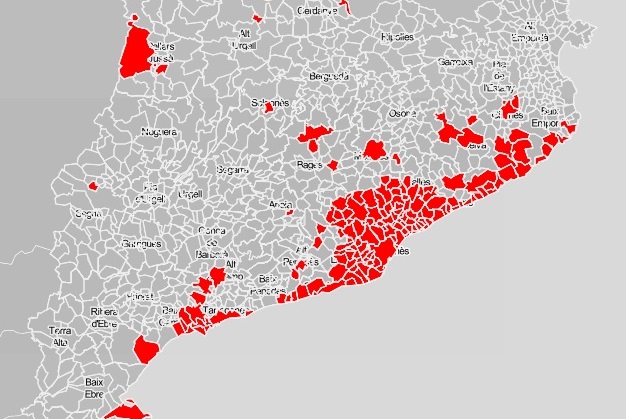 Catalonia will reimpose a curfew in Barcelona and 160 other municipalities, which will be in place from 1 am to 6 am in the early hours of Saturday, July 17, as announced by President Pere Aragonès early afternoon on Friday, just minutes after the Catalan high court gave the go-ahead to the major restriction first announced on Wednesday.
On Thursday, government spokesperson Patrícia Plaja stated that while the measure will have to be reviewed on a week-by-week basis, it will likely be in place for at least three weeks until the public health situation improves.
Because the measure restricts individual liberties and there is no longer a state of alarm in place, a curfew had to be greenlighted by the judiciary before the Catalan executive could implement it.
This comes as Covid-19 rates in Catalonia continue to soar, especially among younger, unvaccinated residents.
Check out the interactive map to find out whether your municipality is affected by the restriction:
Here is the full list of towns and basic information on each of them:
Who is affected by the curfew?
6,030,724 people, around 80% of Catalonia's population, in 161 municipalities. This includes Barcelona and most of the metropolitan area and its surroundings, Girona, Tarragona, and its neighboring towns, several coastal towns especially in the southern Costa Brava, and a handful of inland county capitals, such as Tremp, La Seu d'Urgell, Puigcerdà, or Moià.
Major cities and towns such as Lleida, Manresa, Vic, Igualada, and Roses are not affected by the measure.
Why would it only apply to these municipalities?
Authorities will enforce the curfew in cities and towns with over 5,000 residents and 400 or more Covid-19 cases per 100,000 inhabitants in the past 7 days, as well as in a number of municipalities that do not meet the criteria but are surrounded by other towns that do.
When will the curfew come into force?
On Saturday, July 17 at 1 am.
When would it apply?
From 1 am to 6 am until at least July 23, although it will likely be reviewed and extended for another two weeks until Covid-19 figures improve.
Can the list of municipalities change before the 7-day assessment period is up?
No. The restriction will be reviewed on a week-by-week basis. If a municipality no longer meets the criteria, it will have to wait until the week is up to have the measure lifted. Likewise, if a city or town's Covid-19 incidence rate surpasses 400 cases per 100,000 inhabitants — or if it does not, but the municipality still wants a curfew to be imposed — it will have to wait until the next time the restriction is assessed.
Will there be any exceptions allowing me to be out at night?
Yes, urgent medical care, emergency trips to the pharmacy, commuting to or from work, essential services, picking up or dropping off underage children in the case of separated or divorced parents. People will be allowed to walk their pets on their own from 4 am to 6 am.
What happens if I do not comply with the curfew?
Catalan and local police will be making sure people stay home; otherwise, they may be facing €300 to €6,000-fines. Residents are asked to abide by the rule out of a sense of civic duty.