Catalan president acknowledges new restrictions are 'hard' and promises 'aid package'
According to Pere Aragonès, the measures should be in place throughout Spain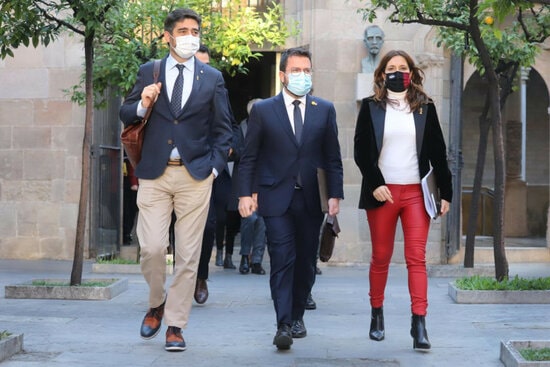 Catalan president Pere Aragonès acknowledged that the new Covid-19 restrictions, which were announced on Monday evening and must be greenlighted by the High Court, are "hard."
But, he told the press on Tuesday, they are still necessary and should be extended to the rest of Spain ahead of the Christmas holidays.
Spanish president Pedro Sánchez will meet with regional leaders, including Aragonès, on Wednesday to address the Omicron-fueled surge in Covid-19 cases.
From Thursday at midnight for at least 15 days, there will be a 10-person limit on gatherings, a 1 am to 6 am curfew, the nightlife sector will shut and there will be capacity limits: 50% in indoor seating areas of restaurants and 70% in gyms, cultural venues, and stores, regardless of whether they are essential or not.
The 10-person cap and curfew, which would only affect municipalities with over 10,000 inhabitants and an incidence rate of 250 cases per 100,000 people, must be greenlighted by the High Court. The other measures do not require approval from the judiciary as they do not infringe upon fundamental rights.
"The measures that are painful and we didn't want to have to implement but are doing so out of a sense of responsibility," he said. "Because it is absolutely necessary to implement them, they must be accompanied by economic aid, especially for the businesses most affected by the restrictions."
Catalonia's economy department will be preparing aid packages in the coming days, with Aragonès describing it as "essential" that the Spanish government do the same.
Aragonès also said that Spain's Social Security system should grant the parents of children who have been sent home due to Covid-19 sick leave to take care of them, regardless of whether they themselves have been vaccinated or contracted the virus.
Whether antigen tests become available for free in pharmacies, as is the case in Andorra, depends on the health department, he said.