Antigen tests sold out in Girona's pharmacies before the Christmas holidays
More tests are expected to arrive next week, as the Pharmaceutical Association says "nobody expected" the sixth wave impact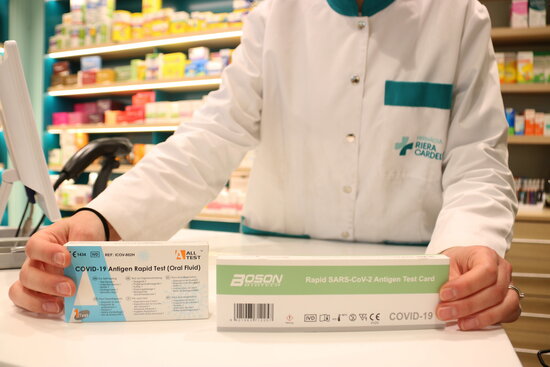 An unexpected surge in demand has left pharmacies in the northern city of Girona without any available antigen tests. Less than a week before the Christmas holidays start, tests are one of the most searched items as Covid-19 cases increase.
Some establishments are receiving Instagram messages from clients wondering if they have any stocks available. There are only a few pharmacies that still have some tests to sell but that is because they ordered more than they thought was necessary.
Girona's Pharmaceutical Association president, Rosa Núria Aleixandre, said to Catalan News Agency (ACN) that "nobody expected the impact of this sixth wave," and highlighted that authorities neither in Catalonia nor Spain "planned" what ended up happening.
Overall in Catalonia, pharmacies have done around 150,000 tests since it was possible to get tested in these establishments. Antoni Torres, president of the Catalan pharmacies federation, said in an interview at Catalan RAC1 radio that 50,000 of those tests were done during the last 15 days.
Aleixandre is optimistic that by the next week pharmacies will have available antigen tests in Girona, especially now that the drivers' strike has been called off.
One of the reasons for this irregular stock is the time that takes to order antigen tests and for them to arrive. Torres highlighted that the tests available now were bought to wholesalers in November, as it takes up to three weeks for the product to arrive.
At that time, demand was fewer compared to nowadays, which is why drugstores ordered fewer than needed right now.
Meanwhile, locals are preparing waiting lists for clients that request these tests to feel safer before holidays and having to "meet with people," said a pharmacy worker to ACN.
Covid cases in Catalonia
As of December 18, 2021, official figures, released daily on this website, state there have been 1,119,341 confirmed Covid-19 cases (PCR tests and others including antibody tests).
On April 15, 2020, the Catalan health department began taking into account information on deaths declared by funeral homes on coronavirus-related fatalities, not only at hospitals, but also at care homes, other health centers, homes, and other places.
Following these criteria, as of December 18, 2021, a total of 24,305 people with or suspected to have had the virus have died since the beginning of the outbreak according to funeral homes.