'Violent, aggressive, angry': Guardia Civil officer describes protests during police raids
Defenses accuse him of giving false testimony and show faces of disbelief as witness takes stand in Catalan trial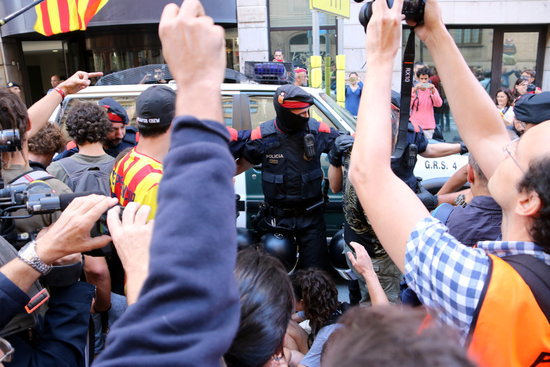 Protests against police raids of the foreign affairs department on September 20, 2017, turned "violent" and "aggressive" over time, a Guardia Civil police officer who was in charge of the raids told the Supreme Court on Tuesday, during his testimony in the trial of Catalan independence leaders.
The protests against the raids started 30 minutes after the operation aimed at halting the independence referendum began, according to the officer, who added: "We decided to evacuate the judicial secretary. If that tumult broke into the department, the consequences could have been catastrophic."
'Shocked' by faces of protesters
"We received insults, death threats… protesters were no longer chanting that they wanted to vote," the officer told the court, who also said that he was "shocked" by the faces of protesters "hitting" the car windows: "They reflected violence. These were not normal faces, they were angry faces."
"I've never seen civilians show such a lack of respect for police that they should even try to take a detainee from them," said the officer, who led the arrest of Foreign Affairs official Xavier Puig Farré, adding that the Catalan police officers present "just looked at what was happening" while protesters "turned aggressive."
Third police officer to testify
He was the third officer to take the stand on day 18 of the proceedings. The first one stated they found a document entitled 'War and guerrilla scenarios' while raiding the former finance secretary's home and office. Meanwhile, the second one testified that jailed activist Jordi Sànchez "wouldn't allow" police cars to reach the economy ministry for the raids.
Defenses accuse him of giving false testimony
The defenses accused him of giving false testimony, and showed faces of disbelief when he described the events, especially when he tried to describe "flags of Òmnium [pro-independence group]" which he allegedly saw in the protests.
The judges rejected the defenses' complaints that also claimed the officers testifying on Tuesday were responding to questions that should not be allowed.
This came before a fourth officer testified that on referendum day, Catalan police were passive and some voters went aggressive and even tried to run over Spanish police officers.