ANC's Sànchez 'wouldn't allow' police cars to reach ministry, officer claims
The raids and protests from September 20 continue to be key subjects in the Catalan trial testimonies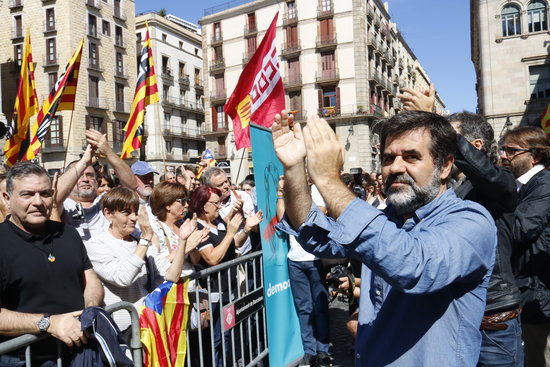 A Guardia Civil police officer testifying in the Supreme Court on Tuesday said that on September 20, 2017, the former ANC head, Jordi Sànchez, who is one of the independence leaders on trial, told a colleague he "wouldn't allow" police vehicles to reach the economy ministry, which was one of the public buildings raided by police.
The officer, the second to testify about the police operation aimed at halting the independence referendum, said he was part of the raid on the home of former Catalan treasury minister, Josep Maria Jové, where the police found various documents with "references to the referendum."
After the raid of Jové's home, the officer said the intention was to take the former official to his office in the economy ministry, where another raid was taking place. Yet, an officer there told him it was "impossible" to get to the building due to the large number of protesters outside and that was when he reported what Sànchez had said.
"Toni" was Antonio Molons, says officer
The officer also said that he took part in a number of raids related to the preparations for the referendum and identified former communications secretary, Antonio Molons, as the person charged with hiring firms to produce publicity material for the vote. Previous witnesses have spoken about being contacted by "a Toni."
According to the officer, he had taken a statement by graphic designer, Enric Vidal, who testified last week, who told him he had met with "Toni," who gave him a SIM card so as to contact him. The officer said that the empty card that had contained the SIM card was found during a raid of Molons' house.
International visitors "unequivocally" came to observe vote
The officer's testimony also contradicted that given by the former head of the Public Diplomacy Council of Catalonia (Diplocat), Albert Royo, who last week denied in court that international experts who visited Catalonia during the independence crisis were hired to act as observers on the day of the referendum.
Contradicting Royo's version, the officer said he took part in the raids of the Diplocat HQ, where police found documents that prove that experts were not "visitors," as Royo maintained, but were "unequivocally" asked to come to Catalonia to carry out "international observation" tasks.