Documents referencing 'war, guerrilla scenarios' found in finance ministry, says police officer
Guardia Civil member says Catalan official ordered his secretary to "throw" papers into a backyard right before being arrested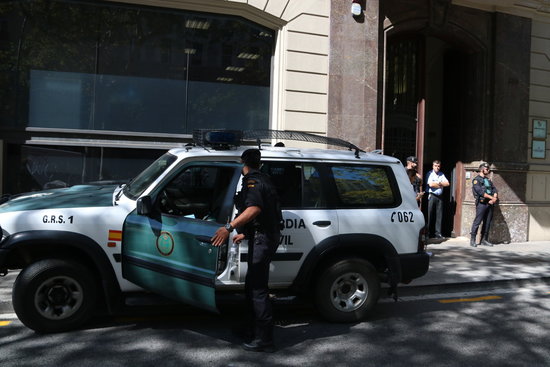 The first of dozens of Spanish Guardia Civil police officers took the stand in the trial of Catalan leaders in the Supreme Court on Tuesday, to give testimony on his role in raids of public buildings, homes and offices on September 20, 2017, in the run-up to the referendum.
The officer told the court that in the home and office of former Catalan finance secretary, Lluís Salvadó, they found "documents related to the 'disconnection' of Catalonia," and others that detailed "possible scenarios after the referendum."
According to the officer, the police also came across a document that referred to "a war scenario" and "a guerilla scenario" regarding "Spain's possible legal and financial responses" to the independence bid, along with "the ways to survive them."
"Mr Salvadó was arrested because he was believed to be developing state structures related to setting up a Catalan tax office," said the officer, who added he heard Salvadó instructing his secretary by phone to "throw documents from the meeting room into a backyard."
September 20 rallies "siege of ministries"
The police officer also told the court that the Catalan bar association was informed of the former finance secretary's arrest, a statement that drew a gesture of surprise in court from defense lawyer, Andreu Van den Eynde.
Referring to the raids carried out by the Guardia Civil on the Catalan government buildings, the officer told the court that he "would not say" that the September 20 rallies against the raids were "festive."
In fact, the officer described the protests as "a siege of the economy and foreign affairs ministries," and added that when leaving the Catalan finance ministry, the police were verbally insulted by people outside, although they had no problems leaving the site.