Five talking points from the defendants' closing remarks in the Catalan trial
The imprisoned pro-independence leaders raised some common themes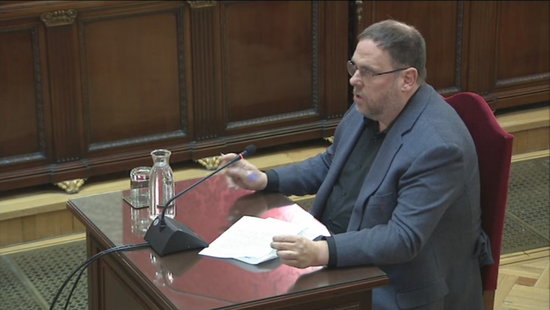 On the final day of the four-month trial relating to the independence referendum and declaration of independence in October 2017, it was the turn of the dozen defendants to respond to the hours of witness testimony and expert reports with their final pleas before the judges.
If the Supreme Court finds the former politicians and activists guilty of rebellion and sedition for their role in the independence drive, this could have been their final contribution to public life before lengthy prison sentences. Here are some of the key topics and standout lines:
Trial as Punishment
"[This trial] is a punishment for the political challenge posed by the holding of the referendum."
Joaquim Forn, former interior minister
"[Preventative imprisonment] is an enormous injustice, not only for me and for the other pro-independence prisoners but in general around Spain."
Jordi Sànchez, former Catalan National Assembly president
Peace versus Repression
"With repression you will not convince those who protest peacefully."
Raül Romeva, former foreign affairs minister
"If police violence couldn't stop thousands of people [voting in the referendum], how can anyone think that a sentence will stop Catalans fighting for their right to self-determination?"
Jordi Cuixart, Òmnium Cultural president
Impact of the Verdict
"The verdict can be the start of a solution for many people."
Dolors Bassa, former work, social affairs and families minister
"Taking political issues to the courts does no favors to politics and nor does it help the judiciary."
Carles Mundó, former justice minister
Need for Dialogue
"The best thing for everyone would be to return the Catalan question to the political domain, from which it should never have left."
Oriol Junqueras, former vice president
Future of the Movement
"New politicians will come along and the longing by a sizeable proportion of the Catalan people to decide how we want to fit into a modern Europe will go on."
Meritxell Borràs, former governance and institutional relations minister
"Deciding to decapitate us will not decapitate the independence movement or the desire for independence and self-determination in Catalonia."
Jordi Turull, former president's office minister and government spokesperson
"Self-determination is transcendental. There will always be more people after us. There are not enough prisons to lock up our desire for freedom."
Josep Rull, former environment and sustainability minister