'Human barricades thrown at police': prosecutor blames Catalan leaders for referendum violence
On second day of trial, Supreme Court dismisses far-right Vox's petition to seize yellow ribbon from defendant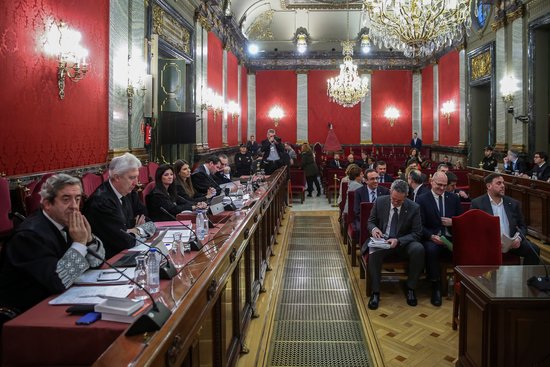 Prosecutors have blamed Catalan leaders for the violence during the 2017 independence referendum, one of the key events for which 12 politicians and activists are being judged in one of Spain's most politically charged trials in decades.
"I don't think the responsibility for the violence on referendum day can be attributed to Spain's law enforcement, but to those who, knowing the law, mobilized thousands of citizens," said prosecutor Javier Zaragoza, speaking at the Supreme Court on the second day of trial. "They acted as human walls impeding the legitimate police operation."
Fidel Cadena, also a prosecutor, accused Catalan police of "taking sides in favor of a rebellion." He said that "human barricades were thrown" against the Spanish police, contributing to "violence and intimidation."