Catalan leaders granted lowest prison category and will spend weekends at home
Sentenced for organizing the 2017 independence referendum, nine politicians and activists have been in prison for almost three years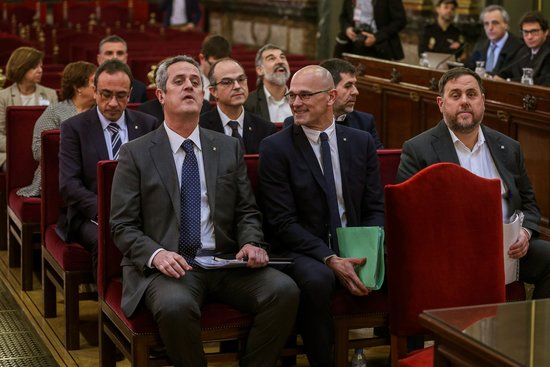 The Catalan government has granted the lowest prison category to the nine pro-independence leaders sentenced for sedition over the 2017 bid to separate from Spain.
The nine politicians and activists, including former Catalan vice president Oriol Junqueras, will now be allowed to leave prison for 48 hours at weekends, but will continue to spend weeknights behind bars—the closest they will be to full freedom until the completion of their prison terms.
Condemned to serve prison terms of 9 to 13 years, they were locked behind bars during a long pre-trial detention before being sentenced last October by Spain's Supreme Court—a decision that spurred an unprecedented wave of protests and unrest all across Catalonia.
"Tonight it will be my 875th in prison. Tomorrow, the 876th. And so on, because the third degree [the lowest prison category] is only a different way of continuing to pay for a 12-year prison sentence and ban from public office," said Raül Romeva, a former minister of the Catalan government. "Freedom is not the third degree, but an amnesty."
On July 2, the prison boards overseeing the jail terms of the nine pro-independence leaders – Carme Forcadell, Dolors Bassa, Oriol Junqueras, Jordi Turull, Raül Romeva, Josep Rull, Joaquim Forn, Jordi Cuixart and Jordi Sànchez – proposed that they should be moved to this more lenient regime, a move ratified by the Catalan justice department on Tuesday.
In a statement the department cited the participation of the prisoners in activities such as reasoning, critical judgment, and conflict resolution; positive collaboration with the rest of the inmates and prison staff, as well as the absence of any disciplinary issues.
They also took into account that all the prisoners in question have a strong social and family network for support and rehabilitation, along with a low risk of reoffending.
Prosecutors have the right to appeal the prison board rulings, but the prisoners' category change will not be affected in the meantime.
The various prison boards will now decide the dates from which the move to a lower category will be applied, as well as the exact times the prisoners will be allowed out and, where applicable, any changes to the activities they may carry out while spending time outside prison.