A rundown of Amnesty's report on jailed leaders
Request for freedom for two activists, criticism of sedition charges and concern surrounding Spain's judicial approach on mass peaceful demonstrations among top topics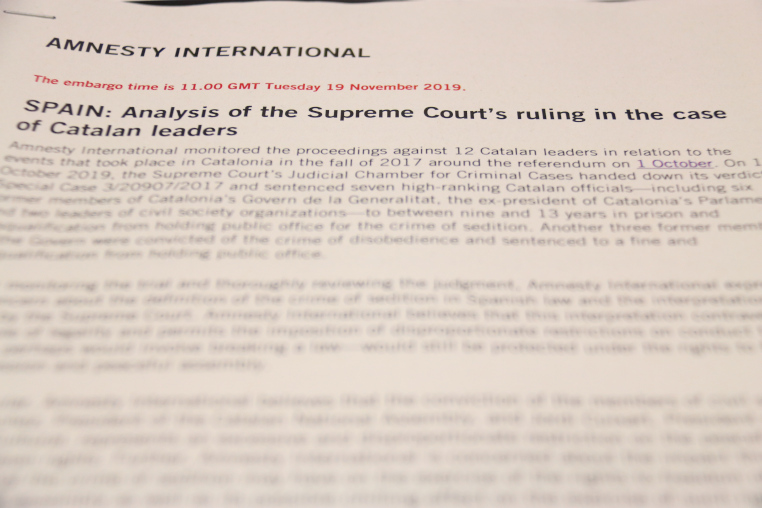 Amnesty International has criticized the verdict on nine Catalan political and civil leaders who were convicted for sedition to 9 to 13 years in jail for their role in the 2017 independence push, released by Spain's Supreme Court on October 14.
These are the most important sections of the NGO's report, released on Tuesday.
Request for freedom of activists
"Amnesty International condemns the decision of Spanish authorities to try and convict the members of civil society Jordi Sànchez, President of the Catalan National Assembly, and Jordi Cuixart, President of the Òmnium Cultural, for the crime of sedition because it constitutes an excessive and disproportionate restriction on their rights to freedom of expression and peaceful assembly".
"Amnesty International urges the authorities to ensure that Jordi Sànchez and Jordi Cuixart, who have already spent more than two years in prison, are immediately released and to ensure a legal process that permits their convictions for sedition to be quashed."
Criticism of sedition charges
"Amnesty International is concerned about the impact this application of the crime of sedition may have on the exercise of the rights to freedom of expression and peaceful assembly as well as its possible chilling effect on the exercise of such rights in the future."
"[In Spain's criminal code, the crime of sedition is vaguely defined , in contravention of the principle of legality as described in Article 7 of the European Convention on Human Rights."