World's largest seafood trade fair held in Barcelona for first time
1,550 exhibiting companies from 76 countries will attend Seafood Expo Global from April 26 to 28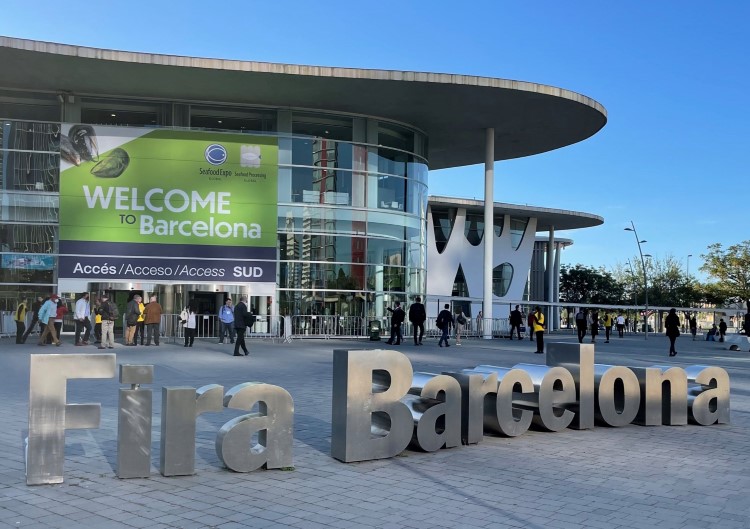 The world's largest seafood trade fair kicked off in Barcelona on Tuesday, the first time it has been held in the Catalan capital.
Some 1,550 exhibiting companies from 76 countries and 59 national and regional pavilions will take part in Seafood Expo Global between April 26 and 28.
After 27 years in Brussels, the 28th edition takes place across almost 40,000m2 of exhibit space at Fira de Barcelona's Gran Via venue, and includes an extensive program of 20 conference sessions which organizers say will "analyze the industry's main challenges and showcase the latest innovations in the sector."
The 2022 event, which comes after cancellations in 2020 and 2021 due to the pandemic, is expected to generate around €100m for the city.
Catalan pavilion
Catalonia will be represented by 15 seafood companies and organizations, such as Mercabarna and the Catalan National Federation of Fishermen's Guilds, all under the banner 'Catalonia, where fish is culture'.
The hub, run by the government's department of climate action, will offer "an audiovisual journey along the Catalan coast, the produce, the fish markets and the fishers."
The Catalan pavilion will also feature talks, roundtables and presentations on subjects such as the health benefits of Omega-3s, generational change in the fishing sector, the cultivation of bivalves in the Ebre delta and sustainability in Mediterranean aquaculture.
Barcelona, major destination for trade events
Barcelona is no stranger to global industry events. In recent months, over 60,000 attended the Mobile World Congress and around 100,000 visited the Alimentaria food fair.
Seafood Expo Global says its decision to move to Barcelona – "a major international destination for trade events and a major seafood hub in Europe" – is the result of "extensive market research based on exhibitor and attendee feedback over the years and an evaluation of major destinations throughout Europe."
The general manager of Fira de Barcelona, Constantí Serrallonga, admitted that not having to wear a face mask for the fair was a "very special feeling."
The Seafood Expo Global is the first major fair at the Gran Via venue without face masks, although the second at the Fira de Barcelona facilities after last week's Barcelona Bridal Week, attended by more than 18,000 people at Montjuïc.
Barcelona deputy mayor Jaume Collboni also welcomed the fair's arrival to what he called the "capital of food from the sea," pointing out that there are 220 fish stalls at markets across the city.