Watching the world: satellite company sets up European HQ in Barcelona
Argentinian multinational Satellogic will create 100 jobs by 2020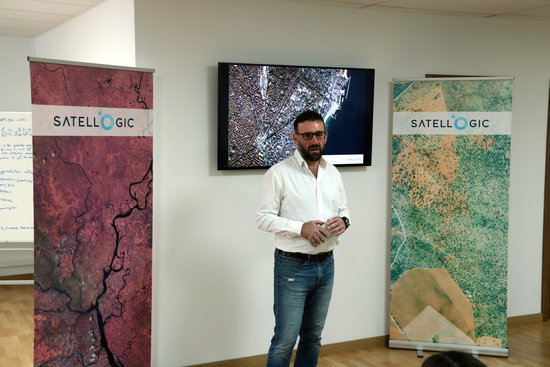 In this ever-changing world, technology is key to how the future will unfold. Using small satellites, the Argentinian company Satellogic aims to transform "our relationship with the planet, helping us tackle the most pressing challenges." And now the multinational is setting up its new European headquarters in Barcelona, which will create 100 jobs by 2020.
Satellogic uses its small satellites to obtain what it calls "high-resolution geo-intelligence," in order to "enable a real-time understanding of our planet," according to its website. In the Catalan capital, a team of scientists will analyse data collected by the company's small satellites.
Innovation
It currently employs 12 people at its base in District 22 in Poble Nou, northern Barcelona, an area known for being a hub of innovative companies. This number should increase to around 20 specialist employees by the end of the year.
At a presentation held on Thursday, Satellogic's chief data scientist, Marco Bressan, explained that Barcelona was chosen because it is a hub for attracting "talent." For Bressan, the city's "ecosystem" of universities, research centres, and technology companies, is "attractive" for a business such as Satellogic.
The tech start-up, founded in Argentina in 2010, dedicates itself to manufacturing small size satellites at a fraction of the cost of traditional models. These then gather and analyze data using algorithms and artificial intelligence in order to "improve the decision-making of corporations, governments, and citizens."
According to the founder and CEO of Satellogic, Emiliano Kargieman, the company's goal is to create a "constellation" of small satellites capable of monitoring "every square metre of the planet," in real-time.
"Live insights from planet earth"
In the context of online surveillance and data harvesting, with companies such as Facebook selling people's information to the highest bidder, it may sound like a dystopian vision. Mark Zukerberg's social media platform recently hit the news when it was revealed that it had shared information of millions of its users to the data analysis company Cambridge Analytica. This data was then allegedly used "to change audience behaviour," as the firm itself states, and was used to influence the 2016 American election, according to its CEO.
A planet under the ever-watchful eye of satellites in orbit keeping track of life on the surface. But Satellogic is based on the idea that "live insights from planet earth" can be used in a positive way to provide "smart data solutions."
These can be applied to various industries or scenarios such as agriculture, market intelligence, disaster response, pipeline monitoring, and critical infrastructure monitoring. Satellogic explains on its website that is "providing unprecedented insights for forward thinking companies in competitive industries."
Maintaining an open source ethic, Satellogic aims to make space-based services more accessible and affordable. It currently has eight small satellites in orbit around our fragile third rock from the sun, but plans to launch sixty more next year. By 2020, it hopes to have more than 100 satellites keeping track of life on earth. The Argentinian firm currently has headquarters in Buenos Aires, San Francisco, Montevideo, Tel Aviv, and Barcelona.