Siemens inaugurates digital innovation centre in Barcelona
Employing a team of 50 data and software experts, it is company's fourth tech hub of this kind worldwide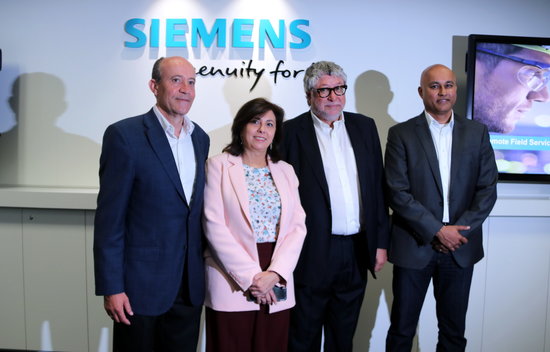 The German multinational Siemens has inaugurated its new digital innovation centre on Thursday in Cornellà de Llobregat, in the Barcelona metropolitan area, with a team of 50 experts in data and software.
It is the company's fourth technological hub of this kind in the world after Shangai, Berlin, and Orlando. The centre will be dedicated to developing digital solutions related to the energy sector using MindSphere, an open source, cloud based operating system.
MindSphere
MindShere stores and analyses the vast amount of data generated by the so-called Internet of Things (IoT.) Unlike the domestic version of IoT, that employs the connectivity of real-world items such as cars or, even showers, to a cloud based system, MindSphere is designed specifically for industry use.
For the energy sector, therefore, the platform manages data generated by automated processes in plants, enabling the immediate implementation of plans, maintenance, and optimization of processes. The technology is implicitly linked to the fourth industrial revolution, more commonly known as Industry 4.0.
This is the use of automation and data exchange in manufacturing and industry, in order to make existing processes more efficient. Some of the elements of Industry 4.0 include artificial intelligence, robotics, IoT, and advanced data analysis.
"The beauty of innovation"
According to Siemens energy division CEO, Vinod Philip, Barcelona was chosen for many reasons. He highlighted the city's "start-up ecosystem," as well as its "creativity" and even "climate." "The environment makes a big difference to attract talented people from all over the world," he said.
At the centre's inauguration, Philip looked to the future with optimism. "I'm really excited to be here, to be able to be a part of the planting of this seed," he said. "We don't know how this is going to grow, but we do know that it will grow. Whether it becomes a tree like an oak tree, or a pine tree, or whatever else, we don't know yet. But that's the beauty of innovation."
The installation of Siemens' fourth digital innovation centre in Barcelona further consolidates the capital as a hub for technology and forward-thinking businesses.