October exports increase 8.8% on last year's figures to €7.1 billion
So far in 2021, Catalan sales abroad were worth €66.2bn, a 22.9% increase compared to the same period last year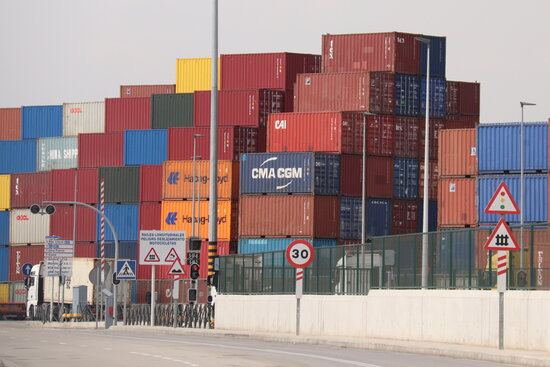 Catalan exports increased by 8.8% in October compared to last year's figures, with sales abroad totaling €7.1bn according to figures released by Spain's Industry, Commerce and Tourism Ministry on Friday.
Despite a lower increase than that seen in previous months, August (23.2%) and September (18.3%), sales levels are higher than before the Covid-19 pandemic. In October 2019, exports were worth €7bn.
Catalonia remains the territory in Spain with the largest volume of exports in October - 24.8% of the total ahead of Galicia's 12.8% and Madrid's 11.7%.
In the first 10 months of 2021, Catalan exports were worth €66bn, a 22.9% increase on the same period last year, and a 6.5% increase compared to 2019. Catalonia's sales also accounted for most of Spain's exports - 25.6% - from January to October 2021.
Figures per sector
The chemical sector once again tops Catalonia's charts, accounting for over €2.1 bn in exports in October, which is a 16.7% growth on October 2020 figures.
Capital goods, meanwhile, were the second-most important export: €1.1 bn, 6.7% more than the same month a year earlier.
Food and drink products and tobacco accounted for €1.025 bn in sales abroad in October, 4.7% more than 12 months prior.
Approaching a new record in exports
With only two more months to count regarding international sales in 2021, Catalonia is well-positioned to achieve a new record.
In 2019, Catalan exports reached the highest figures ever for the ninth successive year, with sales abroad accounting for €73.8 bn, according to figures published by the state industry ministry on February 20, 2020.
The rise in exports was a 3.1% increase over the previous year, with sales from Catalonia making up some 25.5% of the total for Spain as a whole, which all together came to some 290 billion euros, or 1.8% more than in 2018.
Pandemic stopped the record trend
Covid-19 prevented 2020 to be the 10th consecutive year of record-breaking export figures in Catalonia, as they dropped by 10.3% on 2019.
During 2020, Catalonia sold products abroad for €66.265 billion, 10.3% less than the previous year. The first half of 2020 alone saw export figures drop by 17%.