November exports up 15.4% on last year's figures to €7.5 billion
Compared to pre-pandemic numbers, sales increased by 21.7%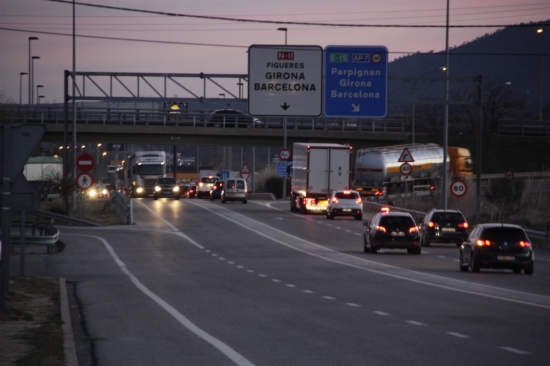 Catalan exports increased by 15.4% in November compared to the previous year with sales abroad totaling €7.5 billion, according to figures released by Spain's Industry, Commerce and Tourism Ministry on Thursday.
Catalonia exported 21.7% more goods, worth €6.2bn, compared to November 2019, months before the Covid-19 pandemic was declared.
Catalonia remains one of the territories in Spain with the largest volume of exports in November, as it represents 25.1% of overall sales. The country exported goods worth €30.3 billion, a 22.6% increase compared to 2020.
Figures per sector
The chemical sector once again tops Catalonia's charts, accounting for over €2.2 bn in exports in November, which is a 24.2% growth on November 2020 figures.
Capital goods, meanwhile, were the second-most important export: €1.1 bn, 10.9% more than the same month a year earlier.
Food and drink products and tobacco accounted for €1.1 bn in sales abroad in November, 13.7% more than 12 months prior.
Approaching a new record in exports
With only one more month to count regarding international sales in 2021, Catalonia is well-positioned to achieve a new record.
In the first 11 months of 2021, Catalan exports were worth €73bn, a 22% increase on the same period last year, and a 7.9% increase compared to 2019.
Pending December's figures, sales are close to the €7.8bn foreseen by the Catalan government and could mark a new all-time high.
Recent estimations by Catalonia Trade & Investment expect a 6% increase in sales abroad compared to 2019, surpassing levels before the pandemic.
In 2019, Catalan exports reached the highest figures ever for the ninth successive year, with sales abroad accounting for €73.8 bn, according to figures published by the state industry ministry on February 20, 2020.
The rise in exports was a 3.1% increase over the previous year, with sales from Catalonia making up some 25.5% of the total for Spain as a whole, which all together came to some 290 billion euros, or 1.8% more than in 2018.
Pandemic stopped the record trend
Covid-19 prevented 2020 to be the 10th consecutive year of record-breaking export figures in Catalonia, as they dropped by 10.3% on 2019.
During 2020, Catalonia sold products abroad for €66.265 billion, 10.3% less than the previous year. The first half of 2020 alone saw export figures drop by 17%.