New €40m Peralada winery aims to put DO Empordà on the map
Winemakers hope to produce 2.5 million bottles a year and attract tourists to site transformed by RCR Architects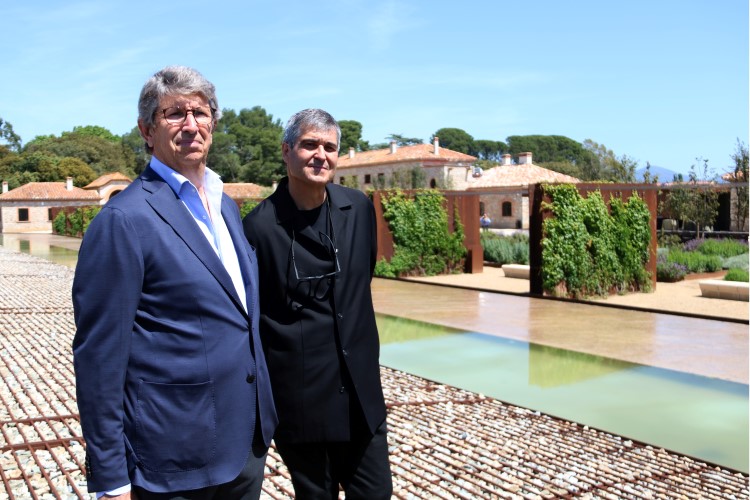 A new €40m winery from the Peralada Group, designed by RCR Architects, officially opened on Tuesday in the Empordà region, in the north of Catalonia.
The project represents a commitment to sustainability, according to the owners, who hope to provide a "legacy" for the village of Peralada and county of Alt Emporda, as well as putting Perelada wines and the DO Empordà wine region on the map.
The new facility will allow production to grow from 1.9 million bottles currently to 2.5 million, but it's about not just about quantity, but quality, Peralada Group president Javier Suqué, explains: "We already make good wines, but the aim is to make them exceptional."
Efficient design
The project was conceived and began twenty years ago, and is centered on what was an old farm building on the Peralada Castle estate (which hosts an annual summer music festival).
Catalan president Pere Aragonès was in attendance for the inauguration of the new facility which has eventually been completed after a long hiatus due to the 2008 financial crisis.
RCR Architects, a Catalan firm that won the 2017 Pritzker Prize, were tasked with designing the facilities, measuring 18,200 square meters.
The winery's structure merges with the surrounding landscape and sustainability was key to the concept. In fact, 25% of the material used in its construction came from recycled sources.
"We couldn't have found a better place," says architect Rafael Aranda. The space "deserved a silent, timeless architectural intervention with the least possible impact."
In fact, in 2021 the winery became the first in Europe to be achieve a LEED Gold rating, from the world's most important sustainable building certification group, the US Green Building Council.
Water is conserved inside and outside the building, through efficient taps, an efficient irrigation system and rainwater harvesting.
The building's cellars, which extend 20m underground, take advantage of natural geothermic heating to minimize energy consumption.
Wine tourism
Although the official inauguration was on Tuesday, wines from the 2020-2021 vintage have already actually been made at the new premises, and tourists will be able to visit from this summer.
The new winery is a family project, which will leave a "legacy for generations to come," Suqué explained.
"We believe that it will increase quality, generate interest in Catalan viticulture and put the DO Empordà where it belongs, because we will work for all of the wineries attracting quality tourism."
Podcast
If you are interested in finding out more about Catalan wine, have a listen to this short podcast.