MWC21 focuses on 'connected impact' in year marked by pandemic
€21 tickets will be on offer for local visitors from different sectors, while a €300,000 donation will be given toward Covid-19 recovery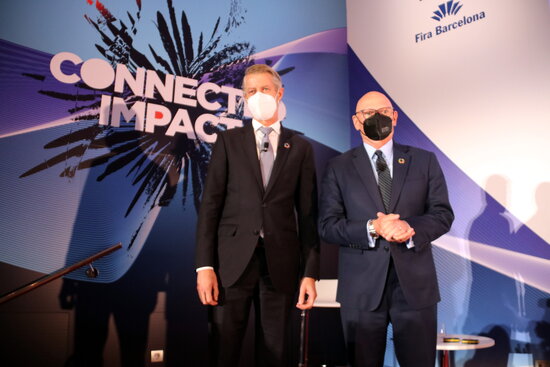 The Mobile World Congress will focus on the vital role that mobile technology has played over the past year, keeping the world connected in a year marked by the pandemic. A special hybrid event is planned for MWC21, with a lot of activity taking place in person, but plenty online as well.
"We've learned a lot of hard stuff through this pandemic, connectivity played centre stage," organizers explained at a press conference on Thursday morning at the Fira Gran Vía congress hall to unveil the plans for the event.
The world's largest mobile industry trade show expects to welcome between 30,000 and 50,000 visitors through the doors of Barcelona's Fira congress hall, with 30,000 special discounted tickets of just €21 on offer for local attendees for sectors adjacent to mobile technology such as consulting, education and finance.
In addition, a donation of €300,000 will be made toward local Covid-19 recovery. John Hoffman, CEO of the GSMA group that organizes the trade show, specified that these relief funds would go toward vaccine administration.
Around 300 exhibitors and 600 speakers will be taking part in the event, with around 70% of the speeches done in person. Organizers say this edition will be the largest event held in the Catalan capital for more than a year.
Some of the most important topics that will feature at this year's Mobile World Congress will be blockchain, robocalling & fraud, mobile gender gap, and climate.
John Hoffman, CEO of the GSMA, avoided putting a figure on the economic impact this year's Mobile World Congress will have, but instead announced that calculations will be done and presented after the event.
Heightened safety protocols
In order to put on such a mass event in an indoor location such as this, various safety measures have been prepared to reduce the possibility of an outbreak of Covid-19 to the minimum.
Everyone passing through the doors will have to test negative for Covid-19 using an antigen test before entering the venue. Increased ventilation will provide for more regular air changes in the exhibition spaces.
Additionally, face masks must be worn at all times, hand sanitizer must be applied at the entrance, and social distancing will be a permanent feature at the congress.
The Mobile World Congress is scheduled to take place in Barcelona between June 28 and July 1, dates which were already pushed back from March with vaccine forecasts in mind.
Various multinational companies have already pulled out of participating in the congress in-person.
Samsung, Google, Facebook, Sony, BT, Ericsson, Nokia, and Oracle are some of the names to have already confirmed they will not be in Barcelona for the Mobile World Congress.