Jobless numbers in Catalonia fall in February
Around 4,685 fewer people were registered as unemployed last month, the largest decline Spain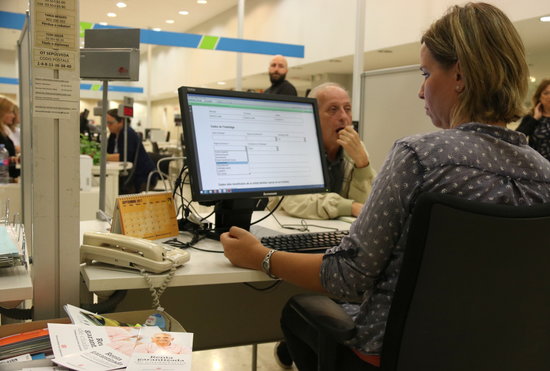 The number of jobless people in Catalonia fell by 4,685 in February, or 1.1% fewer people than in the previous month. February's decline means that the total number of unemployed people registered with the Catalan Employment Service (SOC in Catalan) now stands at 418,181. The fall in the unemployment rate in Catalonia confirms the continuous downward trend in the yearly jobless rate that began in 2013.
Compared with last year's figures, there are now 34,161 fewer unemployed people in Catalonia, a 7.5% drop compared with February 2017. In fact, the fall in the jobless rate in Catalonia is the largest in Spain as a whole. The total number of unemployed people in Spain now stands at 3,470,248, some 6,280 (or 0.18%) fewer than in January, when jobless numbers rose by 63,747.
The drop was noted in all sectors in Catalonia, with the exception of farming. In the service sector, there were 4,071 fewer people registered with the SOC in February, which is partly attributed to the 13,000 short-term contracts for the recently-held Mobile World Congress. The growth in the industrial sector registered in the past few months was also reflected in the unemployment figures, with 866 fewer jobseekers. In construction, there were 543 fewer people looking for work in February.

The fall was also noted in all areas in Catalonia, in monthly and yearly terms, with the exception of the Lleida region, which registered a small monthly rise. The total in Barcelona at the end of February was 302,086, some 3,482 fewer than in January, and 26,413 fewer than this time last year. The fall in Girona was 578 people, to a total of 41,401, while in Tarragona there were 825 fewer unemployed people, to a total of 52,193. In Lleida, the 22,501 total includes an extra 200 compared with January.