Jobless numbers in Catalonia fall again in March
Some 6,720 fewer people registered with employment service, a drop of 1.6% from previous month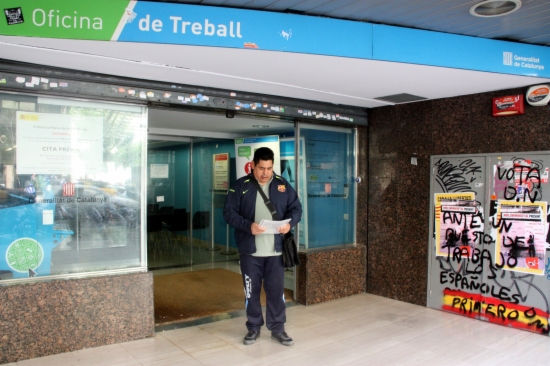 The number of people without work in Catalonia fell by 6,720 in March, to a jobless total of 411,461, some 1.6% fewer people than in February. What's more, the fall is higher than the 1.3% for Spain as a whole, according to figures published by the Ministry of Employment and Social Security. Since July 2013, Catalonia has now experienced 57 consecutive months of falling unemployment figures.
The ministry attributes the fall in March to temporary jobs created in the service sector for the Easter holiday break. The drop in the jobless figures for this March is the third highest since the recession began in 2008, after 2016 (10,246 fewer) and 2015 (9,469). While the largest drop by far was seen in the service sector (6,180), a decline in the number of people registered with the Catalan Employment Service was noted in all sectors.

As for Catalonia's main regions, Barcelona saw a 0.4% fall compared with February, of 1,296 people. For Girona in the north, the decline was higher, with 2,581 fewer unemployed people than in February, or 6.2% less. In Lleida in the west, there were 256 fewer people out of work (1.1% less) compared with the previous month, while the figures for the Tarragona area in the south were 2,587 fewer people, or 4.9% less than the previous month.
In Spain as a whole, the total number of people registered with the employment service currently stands at 3.4 million, 47,697 fewer than in February. The 3.4 million jobless total is the lowest for nine years, according to the ministry.