Briton Wayne Griffiths named new Seat president
Former head of sales has ambitions to make electric vehicle in Catalonia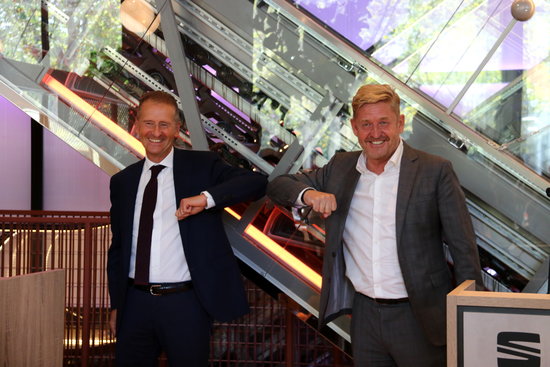 Seat's board of directors has appointed Wayne Griffiths as the new president of the company, replacing Luca de Meo, who left for Renault in January.
Griffiths, born in Greater Manchester, is currently CEO of Cupra (Seat's high-performance division), a position he is set to keep when he officially starts his new role on October 1.
The appointment was made at a meeting chaired by Volkswagen Group chairman Herbert Diess, who described Griffiths as one of the group's "most qualified executives".
Since De Meo's departure, Carsten Isensee has held the presidency of the vehicle manufacturer on an interim basis.
Personal destiny
Griffiths joined Seat – whose headquarters are in Martorell, near Barcelona – in 2016 as head of sales, and has overseen the brand reach record sales levels, with an increase of over 40% up to 2019. He is also one of the creators of the Cupra brand and Seat's new electric scooter, the Mó.
But, as the Briton explained during a press conference in Barcelona on Wednesday, his relationship with the automaker goes back much further, 25 years in fact.
"I started my career here, for me this is not a step, I think it is my destiny, I have found Seat a personal destiny," he said.
Best possible time
The new Seat president insisted that, despite the ongoing coronavirus pandemic, he was taking over "at the best possible time". He outlined his short-term goal is to "stabilize the business and return to profitability".
In the medium and long term, Griffiths wants to turn Seat and Cupra into "very relevant brands" not only in Spain, but within the Volkswagen group and around the world.
The new president also said one of his main ambitions is to oversee a new electric model from the Martorell factory.
New project
The Volkswagen Group is currently evaluating its future electrification projects, with chairman Deiss saying they are "working hard on a project that could be very important for the Spanish economy and the entire automotive sector."
Without giving too many details he went on to add, "we're talking, one, two, three cars, a platform we already have, with new batteries, but nothing is decided, it's a complex project."
Diess described it as a "very exciting, very beautiful project" that could be, according to him, "the best" electric vehicle seen so far from Seat.
Record sales in 2019
Seat ended 2019 with record sales of over 542,000 vehicles sold until November, a 10% increase on the previous year.
The carmaker also broke record sales in Spain in 2019, with over 119,000 vehicles sold that gave it almost a 9% share of the domestic market.
Employing some 14,000 people and with a turnover of almost 10 billion euros, Seat is the single firm that contributes most to Catalonia's GDP.
In July, Seat announced plans to invest €5 billion in Catalonia in the next five years to invest in developing new electric models and convert the equipment and facilities at the Martorell to be able to produce an electric range.