Barcelona to become hub for 5G technology
Catalan capital will share headquarters of an observatory for next generation mobile network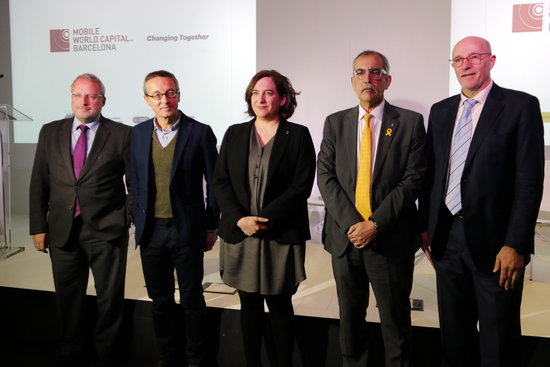 Barcelona is looking to put itself on the map of 5G mobile technology. The Catalan capital will host a 5G observatory shared with Madrid.
This announcement was made in a presentation of the activities of Barcelona Mobile World Capital on Wednesday, with the mayor of the city, Ada Colau, also present.
The aim of this new body related to the next step in the evolution of mobile technology will be to produce studies and reports related to 5G. It was announced on Wednesday by the Spanish government and it will also encourage both public and private collaboration in the research sector, as well as internationalization.
Spain's Secretary of Information Society and Digital Agenda, José María Lassalle, said that the 5G observatory will be an opportunity to establish a "strategic connection between the two major hubs that already exist: Barcelona and Madrid."
The observatory in the Catalan capital will be located at the headquarters of the Barcelona Mobile World Capital Foundation and together with the Madrid headquarters, it will have an investment of 1 million euros.
Mobile world
The announcement comes just two weeks before the annual Mobile World Congress will be held. The event has put Barcelona at the forefront of the mobile world since the event was first held in the city back in 2006.
This year's edition is set to be bigger than ever, according to organizers, with around 110,000 people expected to attend.
On the 5G map
In January, a new 5G initiative was also presented in Barcelona with the aim of turning the Catalan capital into a centre for research and innovation into the development of the next generation 5G mobile network. The organizations and governmental bodies behind the initiative include the Catalan government, Barcelona City Council, and Mobile World Capital Barcelona.
One of the first goals of the project is to raise funds from the 5G Public Private Partnership (PPP) programme, which is itself funded by the European Commission and the Testing, Inspection and Certification (TIC) industry on the continent. These funds would be designated to projects in Barcelona related to the development of 5G technology.
Promoters of 5GBarcelona argue that its potential for success lies in the fact that several entities and research centres that currently exist in Catalonia already make up 22 out of the 37 5G-PPP projects presently in action.