Mobile World Congress set to be "best" ever, says director
Organization pledges commitment to continue in Barcelona until 2023, as contracted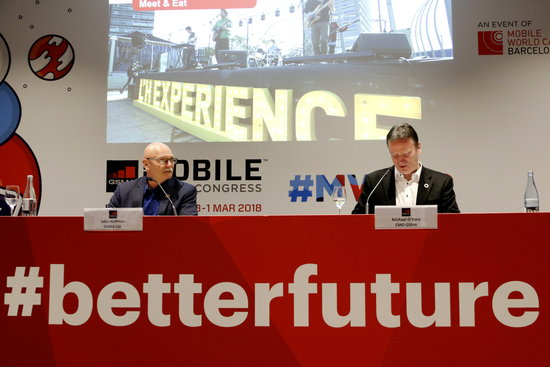 The coming 2018 edition of the Mobile World Congress in Barcelona is set to be the "best" yet, with a similar number of attendees to last year expected according to John Hoffman, director of the organization behind the annual mobile technology event. In 2017, 108,000 participants took part in the event.
Hoffman also confirmed GSMA's commitment to continue holding the congress in the Catalan capital up until 2023, as is contracted, and expressed his hopes that "the situation allows this."
GSMA's head of marketing, Michael O' Hara, also made a reference to ongoing issues in the region and the possible impact on Mobile World Congress. "We want a stable and secure environment, stating how GSMA wants a "stable and secure environment."
O' Hara also maintained how Mobile World Congress will work "closely" with the authorites in order to ensure that this edition as well as those in the future are a "success."
Security measures
Mobile World Congress will be held from February 26 to March 1. Every year, thousands of tech-heads flock to Barcelona to find out the latest developments in the world of mobile technology. In terms of security, it is a big operation.
The congress has a security program run in conjunction with the Catalan police and other international specialists. More protective barriers will be installed, as well as a pilot face recognition programme that will be carried out on some of the attendees.
Hoffman declared that they are very pleased with the security plan designed for the event, stating how GMSA always seeks to be "state-of-the-art"
A different strategy
Unlike previous years, this year's Mobile World Congress is following a "different" strategy. This year the protagonists will be artificial intelligence as well as the future of mobile phones, and how new technologies can help complete United Nations objectives of development and sustainability.
One point of interest will be 'Innovation City' where future technologies such as a boxing bag connected to the so-called 'internet of things'. There will also be solar-powered drones.
Parallel events
There will be various side events running parallel to the congress, such as Women4Tech and Young Mobile Festical. O'Hara noted that GMSA is working to increase female participation in Mobile World Congress, so that it exceeds 25%. Until now, it has always been below 20%.
Economic impact
More than 108,000 people, from more than 200 countries, are expected to attend this year's edition, with more than 2,300 exhibitors. 170 government delegation will also attend the event.
The economic impact of the Mobile World Congress is also high, estimated at €471 million, with 13,000 temporary jobs also created thanks to the annual conference. Since the first Mobile World Congress in Barcelona in 2006, the congress has generated €4.4 billion euros for the economy as well as 115,000 job posts.