Barcelona's 22@ business district expects 25,000 new workers in next three years
With 5,000 tech companies and 60,000 employees, the innovation area has become "Catalan Silicon Valley," says association head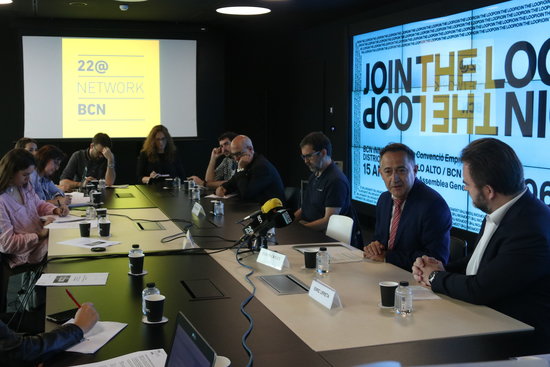 Barcelona's 22@ district, home to the city's tech companies, expects to see the number of new employees working in the area to grow by 25,000 over the next three years.
However, the head of the 22@Network bcn business association, Xavier Monzó, warned on Wednesday that housing and transport in the area must also grow to match the increase.
"It is a period that could come back to bite us," warned Monzó, who added that the business area has gone from being "the Catalan Manchester to the Catalan Silicon Valley."
Since 2004, 22@ has attracted 5,000 companies and 60,000 employees. Last year alone, 128,000 square meters of property was taken, says real estate firm Cushman & Wakefield.
Monzó called for a "deep reflection on the transport infrastructure in the north and south zones," and suggested linking tram lines on the Diagonal avenue could be a "solution."
The growth has caused rents in the area to rise, with Cushman & Wakefield estimating that the current 23 euros per square meter will soon equal the 27-euro average in the city.
According to the real estate firm's figures, rental costs in the area grew by some 13.5% in 2018, and so far this year have risen another 10%.
Over 15 years, 22@ has become a recognized brand abroad, says Monzó, and has attracted above all co-working spaces for entrepreneurs and multinational companies.