Barcelona Airport March passenger numbers almost 90% less than pre-pandemic
Former air traffic control tower is to host international aviation start-up hub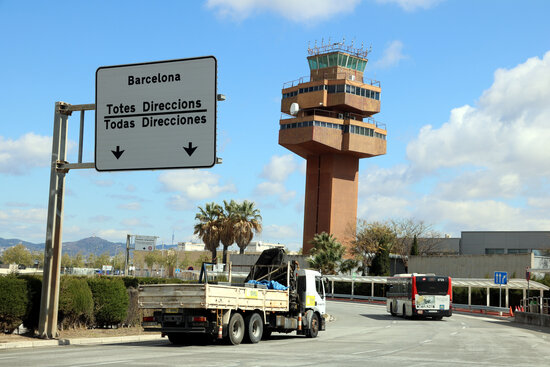 The Covid-19 pandemic continues to hit passenger numbers at Barcelona–El Prat Airport, with a total of 423,774 people using the airport during the month of March.
This is 79.1% less than March 2020 when the state of alarm was declared, and 89.3% less than the same month in 2019.
In terms of the number of flights, the Catalan capital has registered a total of 5,293 in March, 61.8% less than last year and 79.6% less than in 2019, according to data published on Monday by the Spanish Airport Authority, Aena.
Regarding freight transport, 11,234 tonnes passed through Barcelona Airport in March, 12.2% more than in the same period in 2020, but 28.9% less compared to 2019.
Passenger number at Barcelona–El Prat Airport fell by over 75% in 2020, due to travel restrictions and the health crisis.
Girona and Reus airports
Girona Airport closed the first quarter of the year with a fall of 97.6% of passengers compared to the first three months of 2020. During March there were 711 passengers registered, 94.7% less than the same month last year.
Reus Airport had no commercial flights in March. It recorded 562 passengers, 56.8% less than the same month last year and 88.2% less than in March 2019.
Start-ups at former control tower
The former control tower at Barcelona Airport will be the new home for five international start-up projects in the field of aviation.
The selected companies will each receive €50,000 of funding from Aena Ventures, with the possibility of a €2m contract with Aena.
The start-ups come from Spain (Meep and Chinespain), France (Carwatt), the United Kingdom (Airbot) and the United Arab Emirates (Dubz).
They will be developing ideas in areas including facilitating point to point mobility of passengers, luggage handling, and promoting sustainability in the airport facilities.