Audiovisual sector represents almost 3% of GDP after growing 5.6% in one year
Industry employs over 32,500 people and generates €7bn economic impact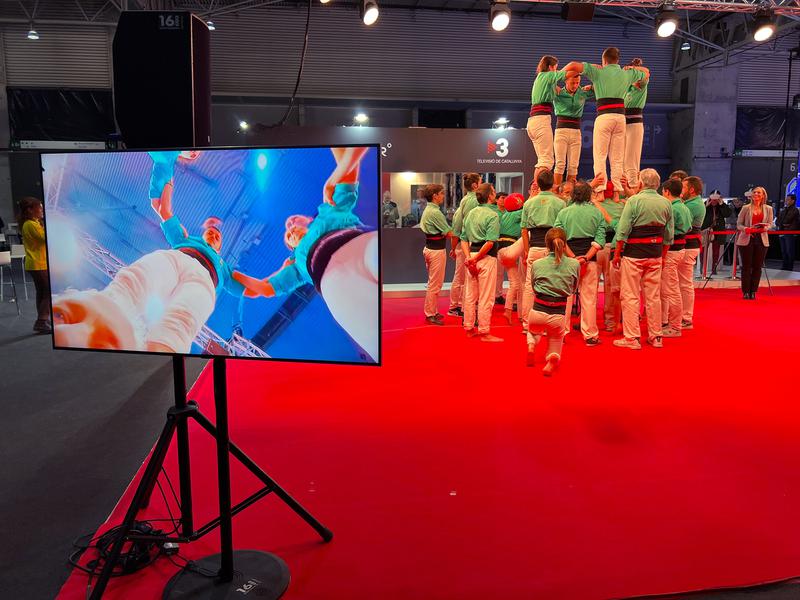 The Catalan audiovisual sector is becoming an essential industry in Catalonia after growing 5.6% in one year and surpassing an economic impact of €7 billion. Companies in this sector already represent 2.9% of the Catalan GDP, with 3,700 firms employing over 32,500 people.
These numbers are no surprise to labor and business minister Roger Torrent. In recent years, many international companies have opened their offices in Barcelona, largely driven by the Integrated Systems Europe (ISE) audiovisual fair.
"We are building a leadership position from a technological point of view in southern Europe, and we also want to lead the way in the audiovisual industry," Torrent said to journalists while visiting the trade show.
Interactive holograms and new experiences
The audiovisual sector's growth has had an impact on several Catalan companies that showcased their products and services at ISE. Among the over 70 businesses, attendees can see holograms, virtual reality experiences, and digital shopping windows.
Being a part of the trade show opens the doors for enterprises to grow and work for international companies including streaming platforms or filmmakers.
"From a technological point of view, the global audiovisual industry already trusts the Catalan one," Miquel Rutllant, president of Catalonia's Audiovisual Cluster, said to the Catalan News Agency (ACN).
"We need more infrastructure for these companies to produce here in Catalonia. This is why we believe that a place such as Catalunya Media City is crucial," he added about the audiovisual content creation hub built near Barcelona.
Most of the companies in Catalonia exhibiting at ISE show new technologies and how to implement them daily. Among them, Newtonlab Space presents a holographic window that shows people and objects in 3D in real-life size.
"In the short term, holograms will become a part of our lives. We will not have to wait a lot to see devices projecting real-life size people in renowned stores," Roger Belbo, creative director at Newtonlab Space, told ACN.
360-degree human towers
ISE is about holograms, making virtual reality unique experiences, and bringing live events to 360-degree audiovisual productions.
The Catalan audiovisual corporation (CCMA), a public company that owns broadcaster TV3 and the Catalunya Ràdio radio station, brought their new initiative to the trade show.
The company prepared a human-tower display to showcase a live broadcast in 360-degree and multi-camera technology.
"It is a live 360-degree multi-camera show where the viewer not only becomes a part of that reality by becoming immersed in a 360-degree environment but by choosing from which camera to watch the show," Francesc Mas, CCMA's manager of research and innovation at the engineering department, said to Catalan News.
The user can enjoy the program, in this case, a live broadcasting of human towers, with a reality headset and get to never seen places, such as in the middle of the pile.