Modernist Casa Amatller building opens immersive experience taking visitors to early 20th-century
Museu Digital premieres with temporal exhibition on dragons and their inspiration for art nouveau architecture style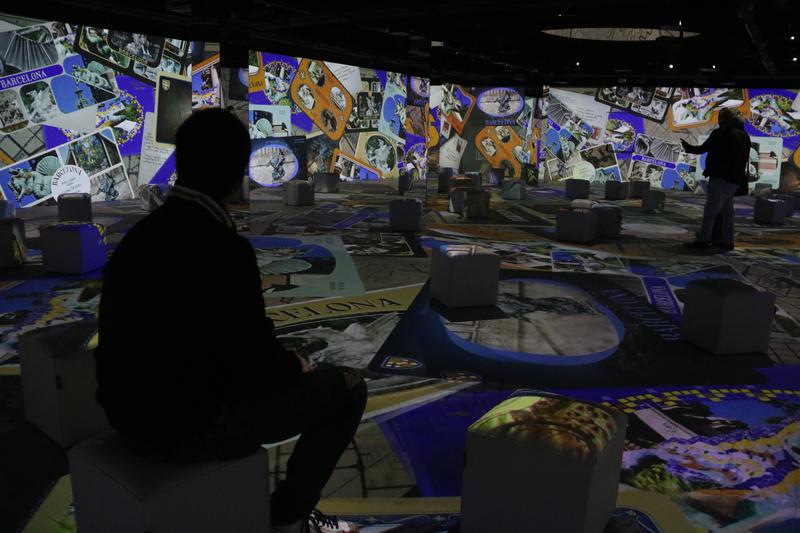 Modernist art nouveau architecture style building designed by Josep Puig i Cadafalch, Casa Amatller, next to Antoni Gaudí's Casa Batlló in Barcelona's Passeig de Gràcia boulevard opened a new immersive experience taking visitors to the early 20th-century.
Coinciding with the day of the museums, officials unveiled the Museu Digital digital museum with the first exhibition focused on dragons and their inspiration for modernism. The show talks about the different myths and legends surrounding this mythological animal in Catalonia but also across the globe.
The museum will show visitors the origins of modernism as a key element of the Catalan identity and the creation of current Barcelona in a space of almost 2,000 square meters, a 360-degree immersive experience room, and a virtual reality area with interactive installations.
Casa Amatller will also offer several heritage sites, aside from the new digital museum, with a permanent exhibition, a temporary one, and an agenda full of cultural activities that will return life to the building.
Barcelona's history after the fortress' walls is part of the museum's experience as it ended up creating a disruptive atmosphere in the city and Catalonia back then.
Digital Museum's director and IDEAL immersive experience site director Jordi Sellas praised the fact that this is the first digital experience focused on modernism and Barcelona's origins using immersive, interactive, and normal technology.
IDEAL's long immersive experience career
The show has been possible with the collaboration of IDEAL, one of the most unique arts centers in Catalonia.
They are responsible for exhibitions such as one on the iconic surrealist painter Salvador Dalí.
At a launch event during summer 2022, IDEAL showed their work-in-progress and their methods of production to the public, as director of the arts center Jordi Sellas was excited to explain, calling it "an experience that no one has done before."
The exhibition takes a look at the exploratory mind of Dalí, his biography, and how he delved into topics such as the 3rd and 4th dimensions, sacred geometry, quantum and nuclear physics, and DNA, which to him proved our species' "immortality".
The exhibition includes a "metaverse room," a "digital parallel universe" where people can interact with one another, and ends with the "infinite room," an expansive hall in which the floor and all four walls have massive visual displays projected upon them.
Josep Puig i Cadafalch
The architect, born in Mataró, north of Barcelona, in 1867, is well known for his work as an architect on several sites across Catalonia.
Some of them include Caves Codorniu, Catalan sparkling wine, headquarters in Sant Sadurní d'Anoia, just outside of the Catalan capital, but also in the city the 'Casa de les Punxes' in the Diagonal avenue or the Casarramona heritage factory, currently house of the CaixaForum exhibition hall in Montjuïc hill.
Puig i Cadafalch died in Barcelona on December 23, 1956.