Cava, Classic Penedès, Corpinnat: A guide to Catalan sparkling wines
Catalonia, the ideal place to discover the festive beverage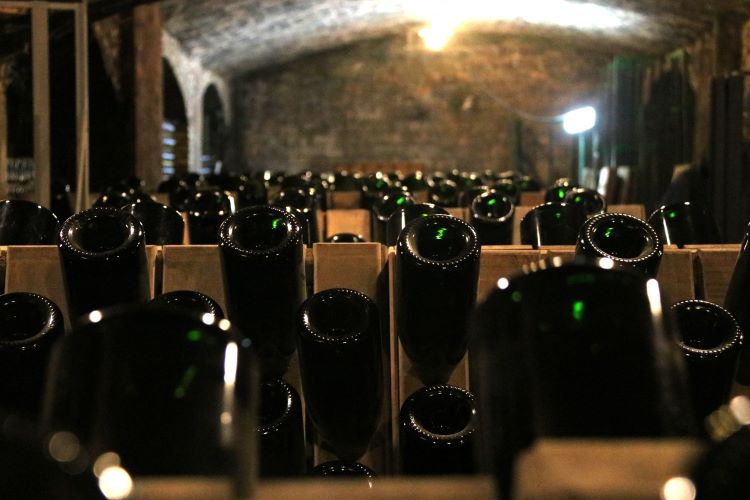 The El Penedès area between Barcelona and Tarragona has a special place in Catalonia's long winemaking history, dating back over 2,000 years: it is the birthplace of Cava, the quintessential Catalan sparkling wine. The first bottle of Cava was made by Josep Raventós of Codorníu, one of the world's oldest wineries, 150 years ago, after a trip to France.
Cava, Champagne or Prosecco?
Given that Raventós learned how to make this fizzy beverage in France, one might be left wondering how it differs from Champagne, especially as it only became known as Cava in the 1970s since French producers had decided they weren't too happy with those in Spain using the same name.
And in fact, Champagne and Cava actually made the exact same way: wine undergoes a second fermentation process, to make it carbonated, in bottles - unlike Prosecco, where this is done in large tanks.
Usually made with Macabeu, Parellada or Xarel·lo grapes, Catalonia's bubbly is a versatile beverage, ranging from Brut Nature - the driest flavor with no added sugar after the second fermentation - to sweet or Dolç, with Extra Brut, Brut, Extra Dry, Dry and Semi-dry in between. Confusingly, the "dry" flavors are actually sweeter than the "Bruts".
Most Cava sold abroad
Cava has become a lucrative industry in the past 150 years, with the likes of Codorniu, Freixenet, and others producing 252 million bottles last year alone, more than before the pandemic.
Around 70% of these bottles were sold abroad, and while most Cava is produced in Catalonia, any region that made sparkling wine in Spain before it stopped being called Champagne can be called Cava. Outside of Catalonia, Cava can be found in parts of the Ebro river valley as well as the Valencia and Extremadura regions.
Beyond Cava: Corpinnat and Classic Penedès
In recent years, some winemakers have parted ways with cava to form their own collectives with more stringent entry requirements.
While Cava-makers are mainly Catalan, wineries that sell under the Classic Penedès and Corpinnat labels are only from the Penedès region, have longer minimum aging times, and are entirely organic.
Name Location Minimum aging time Organic?
Champagne Only Champagne, France 15 months Not necessarily
Cava Mainly Catalonia but also a few other parts of Spain 9 months Not necessarily
Classic Penedès Only Penedès, Catalonia 15 months Yes
Corpinnat Only Penedès, Catalonia 18 months Yes
"Everything began many years ago when some friends from different wineries, we were talking about what was happening in the Cava world, and we were not completely in agreement," Ton Mata, the Corpinnat president and CEO of the Recaredo winery told Catalan News.
There are, at the moment, only 11 wineries that use the Corpinnat label - compared to Cava's 140 or so - and the 2.3 million bottles they produce per year pale in comparison to Cava's.
But they're a far more exclusive bunch and they all only come from the Penedès area. Unlike other Penedès wineries, which may buy grapes or even the base wine from other regions, if they buy grapes, they are always more expensive, local, and hand-picked. And they always make their own base wines.
"It is completely forbidden to buy wines from other companies," Mata says. "You must produce your own wine in your company."
In any case, whether you're looking for a Cava, Classic Penedès, or a Corpinnat, many Catalan wineries are open to tour groups or for special celebrations, making them the ideal place to discover the world of fine sparkling wines.