Urban solutions at the Smart City Expo World Congress
Exhibitions and talks aim at shaping and improving the technological future of cities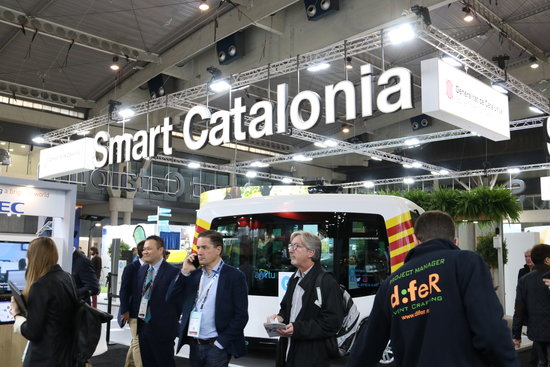 By 2050, two-thirds of the world's population will be living in urban environments. People are flocking to metropolitan areas at a rate never seen before, and cities have to find a way to respond to this growth.
The Smart City Expo World Congress is where world leaders in technology, government, and other industries come to discuss, plan, and debate ideas of the future.
What is a smart city?
But, what exactly is a smart city? It can be thought of as a place that uses information and communication technology to improve how it works in terms of energy, transport, and utilities, with the ultimate aim of using smart technology to reduce waste and costs.
Pedro Espinel, Chief Commercial Officer of the Internet of Things (IoT) solutions company Sensing & Control, showed off their latest horizontal platform to Catalan News on the first day of the congress.
The platform, accessed online by government officials, shows real-time data collected from sensors placed throughout a city. The tool collects and processes data over time, and presents it through graphs and charts that allow for more informed decision-making, useful for "lowering energy consumption" with the aim of achieving lower levels of pollution and "better air quality."
Themes and talks
The event is divided into five themes: digital transformation, urban environment, inclusive and sharing cities, governance and finance, and mobility.
More than 400 international experts are coming to Barcelona to give talks, and 844 global companies and organizations are participating in an expo, showing off their latest projects and ideas to help build the best tomorrow.
New products unveiled
The Smart City Expo is a high-profile event, and the perfect stage for huge companies to unveil their latest products and grab headlines.
SEAT revealed their first ever motorbike on day one of the fair, a 100% electric vehicle that the company hopes will become a huge hit in Barcelona, the European city that the carmakers pointed out in their press conference with more motorcycles than any other.
The Catalan company, led by Italian president Luca de Meo, is in charge of micro mobility for the whole of the Volkswagen Group, and the new motorbike is the latest in a line of more environmentally-conscious moves from SEAT, following the release of their first ever electric scooter — their first ever product that wasn't a car — and their Respiro car-sharing initiative, which launched in Barcelona in the summer.
A letter of intention between mobile giant Huawei and the city of Barcelona was also signed at the Smart City Expo. The deal is aimed at both entities working on collaborative projects to innovate the city and improve technological investment.
Likely to be high up on the list of tasks in the arrangement is the digital transformation, the development of 5G technology across the Catalan capital, and SmartCity application.
Making cities greener
Undoubtedly, the biggest issue facing the entire world right now is the climate crisis. Cities are growing fast, which in turn leads to a lot of pollution. Yet they are also the epicenter of creative thinking and economic and technological development, which is probably humanity's best chance of solving the climate emergency.
In the Urban Environment room, speeches and debates aim to resolve this metropolitan paradox, and throughout the congress, companies and government entities share ideas in hopes of resolving the problems of the future, before they grow out of hand.
Themes of resource management, bringing nature back to city environments, and building smart infrastructures are hot topics this year at the congress.