'It's time the Internet speaks Catalan': Times Square billboard promotes language in digital sphere
AINA database has already recorded voices of 1.7 million Catalan speakers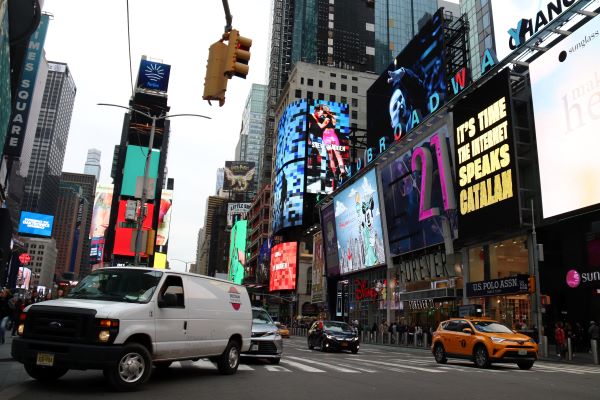 "It's time the Internet speaks Catalan": this is the message that, as of 5:30 pm EST on Monday, is being displayed on one of New York's Times Square billboards and will be up for day.
Catalan vice president and digital policies minister Jordi Puigneró is in Manhattan these days to promote AINA, a database that has already recorded the voices of 1.7 million Catalan speakers of different areas, genders, and ages in an effort to facilitate the development of voice assistants in the Catalan language.
New York is the last stop, at least for now, on a tour that has seen authorities promote the initiative in Northern Catalonia, the Balearic Islands, and the Valencia region.
For languages to "survive," they must be present in the digital sphere, said Puigneró, who was also in New York to attend Sant Jordi celebrations there. "This project intends to save Catalan," he explained.
Authorities now aim to have 2 million voice recordings in the database – not a small feat for a language spoken by some 10 million people.
Catalan speakers are being encouraged to "donate their voices" through the Mozilla Common Voice initiative that has the goal of teaching machines how real people speak.