'The Catalan language: 10 million European voices' on display in Slovenia
Plataforma per la Llengua and Delegation to the Balkans bring exhibition to Ljubljana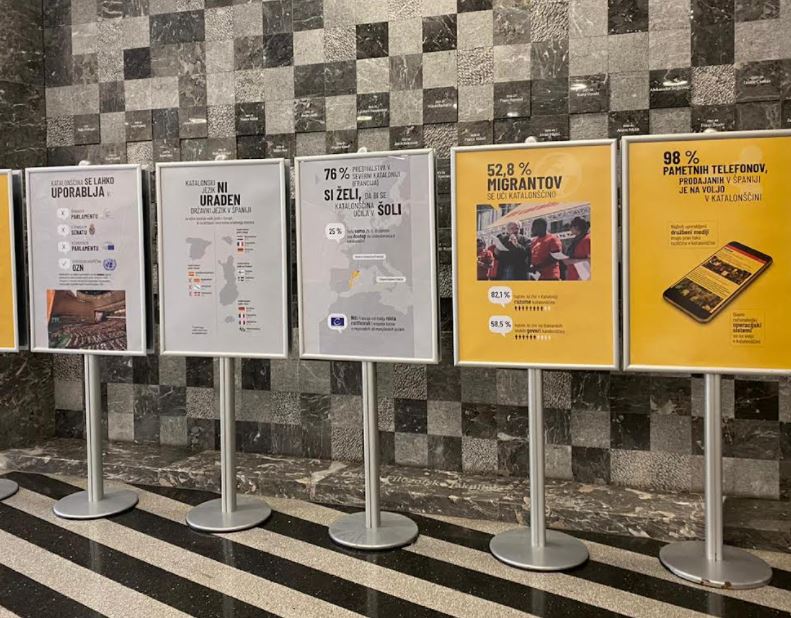 The 'The Catalan language: 10 million European voices' exhibition can now be visited at the University of Ljubljana in Slovenia.
The exhibition put together by civil society group Plataforma per la Llengua, which promotes the use of the Catalan language, provides visitors with information on the 14th most spoken language in Europe, particularly its use in various spheres such as culture and education, as well as its situation as a minority language in Spain, France, Italy, and the European Union.
Inaugurated on October 19 by the Catalan government's delegate to the Balkans, Eric Hauck, as well as professor Mojca Schlamberger Brezar of the Department of Translation Studies and Catalan language lecturer Hristina Vasić, it will be on display until November 5.
"The worst threat to a language is that we stop seeing it, talking it, listening to it, reading in it, feeling it, loving it," Hauck said.
Ljubljana University began teaching Catalan again last year after a 10-year hiatus.
According to Schlamberger Brezar, many Slovenians are unaware of the language's status. "It's incredible that Catalan is not yet an official European Union language," she said.
In 2019, 'The Catalan language: 10 million European voices' made its way to the European Parliament in Brussels. Initially canceled, it was able to open to the public for five days in March following criticism from then-MEP Ramon Tremosa and Plataforma per la Llengua.