Health centers begin testing for coronavirus immunity
Catalan CAPs part of Spainwide study of antibodies in blood aiming to find out how long defenses against Covid-19 last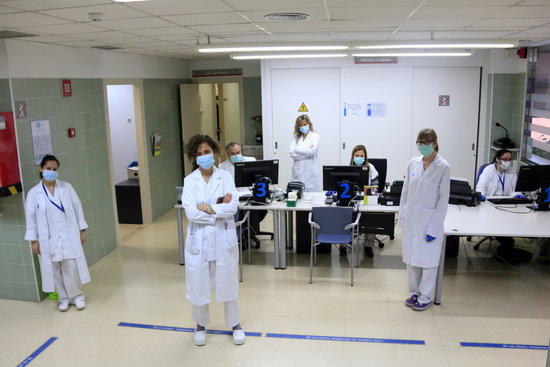 Primary care centers (CAPs) in Catalonia have begun doing tests to find out the scale of immunity to Covid-19 in the population as part of a study by Spain's health ministry.
The study will be carried out on a randomly selected portion of the population in Spain, with each participant undergoing a rapid serological test.
Some 10 minutes after blood is taken from a pricked finger, the result shows if the subject has developed antibodies against the virus, with blood also taken for a lab test.
A survey is also done to get more information, such as possible symptoms, with each participant undergoing the process three times over a month and a half.
CAPs in Barcelona began doing tests on Thursday, although some medical centers in other parts of Spain began carrying out testing on Wednesday.
Participants in the study have previously been contacted by telephone after being randomly selected by Spain's statistics institute, the INE.
A professional explained what the study consists of and invited them to take part and then gave them an appointment in the CAP, or at their home if they are unable to travel.
What the rapid tests reveal
Participants are given the results of the rapid test, which provides information on two types of defenses, Immunoglobulin M and G (IgM and IgG).
If the result is positive in IgM, it means that person is at an early stage of infection, as these are the first antibodies to be generated.
"If the test shows elevated IgGs, which are the defenses that appear later, it means that person has been through the infection and developed protection," says the head of care of Barcelona's CAPs, Dr. Belén Enfedaque.
"If both come out, it means the person is in a phase where they are healing and late defenses are appearing. In this case, a visit should also be made to find out what point the infection is at, whether you have had symptoms that may have gone unnoticed, and the necessary action to be taken," she adds.
Three tests, three weeks apart
The Carlos III Institute of Health in Madrid has designed the study to be done in three waves, spaced about three weeks apart, with CAP professionals doing the first tests.
In the case of the Manso CAP in Barcelona, for example, about 70 tests will be carried out, after which they will start repeating the tests as set out in the study.
"The aim is to see how immunity evolves. One of the many things we still don't know is how long the defenses against the virus last," Enfedaque points out.