EU-Startups Summit: networking meets the future in Barcelona
Over 2,000 attendees including investors, startup enthusiasts, and founders at event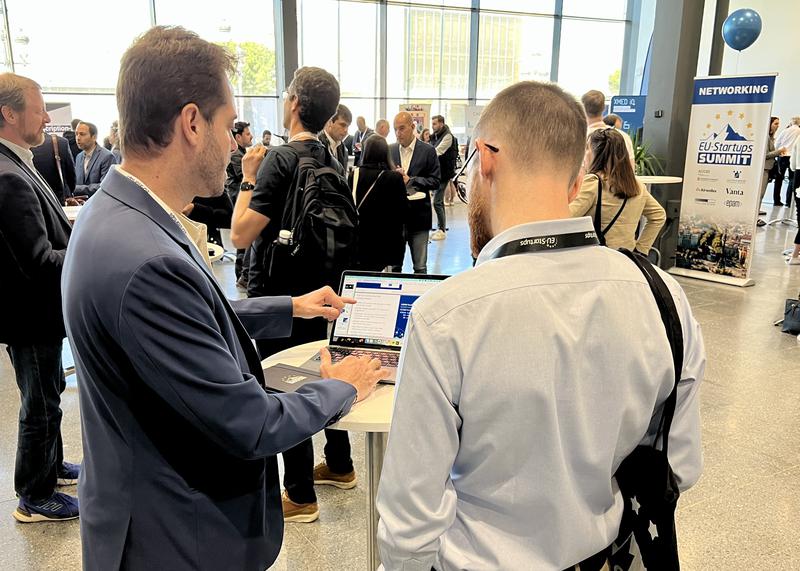 There are many potential unicorns in Barcelona's Palau de Congressos exhibition hall these days, but not the imaginary animal but rather startups that hope to go on to become impactful and valuable companies.
Companies are only considered unicorns when they are valued at over €1 billion before being listed on the stock market, meaning that only very few startups will ever become one.
However, to get to that level, founders need to meet with investors and other CEOs, and one place to do this is at the EU-Startups summit taking place in the Catalan capital.
"It's not only startups and founders coming from Barcelona, they're actually coming from all over Europe," Anastasiia Ponomareva, the events & partnerships director at EU-Startups.com, said to Catalan News."Barcelona is a nice place to come to, it's spring, it's sunny, people can also book a vacation for the week, and then they meet with the thriving startup ecosystem in Barcelona."
"This summit is a great opportunity for companies to connect with potential partners, potential employees to build their teams, and investors," she added.
On April 20 and 21, many activities are scheduled, including educational talks, where experts offer tips on fundraising, team building, or anything "that a founder would like to know before launching their startup," Ponomareva said.
There are 2,100 attendees registered to network and explain what their businesses entail to others.
Some of these companies focus on computer programming, going on bag-free holidays, or even saving the world, as is the case of Infinite Games.
"We save the world on a daily basis," Maria Alkalay, the founder of Infinite Games, a social enterprise owned by a non-profit organization, said to Catalan News.
"We save the world by raising awareness about important topics of the modern world, we talk about discrimination, human rights, diversity, inclusion, and we discuss issues like gender equality and tolerance through games," she added.
"We created gamified tools to attract the attention of everybody to underline the educational concept that is important about diversity inclusion and human rights," she said before mentioning their new game: Barabar. The game's name in Turkish, Bulgarian, and Albanian means "together."
There are 75 characters in the game, some of which are "really important from the past but also role models from the modern world, which are making their own contribution to make the world a better place," she concluded.
Other companies at the EU-Startups summit are, for example, Blox, the creators of financial planning software for small and medium-sized companies.
"We help leaders low on time or financial expertise to plan their future quickly and easily," Archie Croft, the founder's associate at Blox, said to this media outlet.
So far, Blox has "helped a few [startups] plan out their future, to be able to explain to their investors their business model, what they are doing, and raise money. So that is one of our key products, that we help leaders who are building a business and starting out plan for the future," Croft added
Visitors come not only from Spain but also from Germany, Portugal, and Italy, among other countries with the aim of finding inspiration, learning, and meeting new people at the event.
Attendees are able to schedule meetings at the meeting point with aspiring entrepreneurs and investors who want to build international tech companies but also listen to the speeches of over 75 leading professionals.
Among them are Mike Butcher, a journalist and the editor at large for 'TechCrunch,' Erika de Santi, the co-founder and international expansion director of WeRoad travel operator, and Fritz Trott, the founder and CEO of Zenjob, a Berlin-based scale-up that connects talents and students.
Speakers from Catalan companies include Rob Cassedy, the CEO of Barcelona-based Wallapop, and Sacha Michaud, a Glovo co-founder.