Catalonia to begin making respirators with 3D printers
Public-private partnership will see production of 50 to 100 such devices instrumental for intensive care units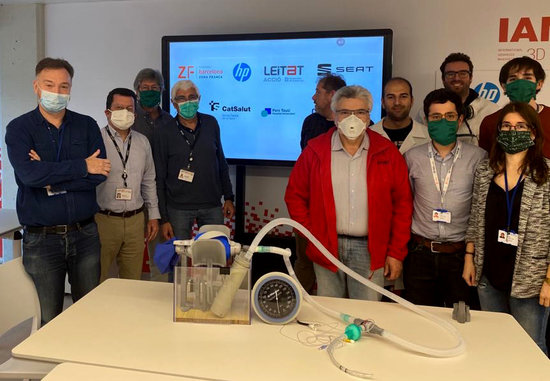 Catalonia is expected to begin making respirators with 3D printers as of Monday, after a public-private partnership resulted in a medically-validated prototype that can be manufactured on an industrial scale.
The aim of the project is to provide extra material to hospitals and especially intensive care units coping with the most serious coronavirus cases.
The public and private institutions behind Leitat 1 – the name of the prototype – say that from this week, around 50 to 100 such respirators can be manufactured every day.
The Catalan public health system (CatSalut), through Terrassa's health consortium (CST) and Parc Taulí hospital in Sabadell, has joined the project, together with the firms HP, Seat, Leitat, and the consortium of Barcelona's Zona Franca industrial estate (CZFB).
The production of the device will also be joined by the Airbus and Navantia companies, as well as smaller communities of 'makers,' aiming to increase the capacity of production over the coming days.
"It is a field respirator whose design and components have been simplified as much as possible, aiming to develop a robust medical device that is useful and less complex, through easier production and assembly," said a statement from Zona Franca's industrial estate consortium.
Catalonia's health minister, Alba Vergés, said on Sunday evening that the prototype has been designed "in record-breaking time." She added that the project will breathe "fresh air" into the health system, which is on the brink of collapse.
Volunteers make thousands of face masks
In northern Catalonia, a group of volunteers have banded together to make face masks that can be used by people and healthcare professionals.
Conchi Morales, a dressmaker from Sant Feliu de Guíxols, sent out the call for volunteers to use cotton clothing fabric to make face masks, and the response came from thousands of people willing to give a hand.
At first, the group made 2,000 cotton masks, which can serve as "another filter" for people in the fight against covid-19.
However, the group now uses a special surgical fabric, which is "perfect" for healthcare workers.
"We have been told that these masks are perfect especially for healthcare workers because they can be washed and disinfected several times," Morales explained.
Local town councils have donated material to the cause too, but the group are looking for more material donations, as they already have enough of a workforce to help. In fact, in one morning alone, the group were able to make 1,000 face masks.
Organizer Conchi Morales first put out the call for volunteers on social media, thinking "around nine or ten people would answer" her. However, the response was huge, and thousands had pledged to give their services in making the first 2,000 face masks.
Now, the initiative has grown, as the group will continue making the face masks during this time of crisis. They have also made contact with other groups, to teach them how to fabricate the face masks.
However, Morales emphasises that the group does not charge anything for the masks, nor do they accept economic donations.
"There are healthcare workers who take care of us, and we want to take care of them," she said.