Catalan government allocates €4m to covid-19 research projects
Proposals include vaccine development, treatments and genetic studies, with hope patients start benefiting from some results before end of year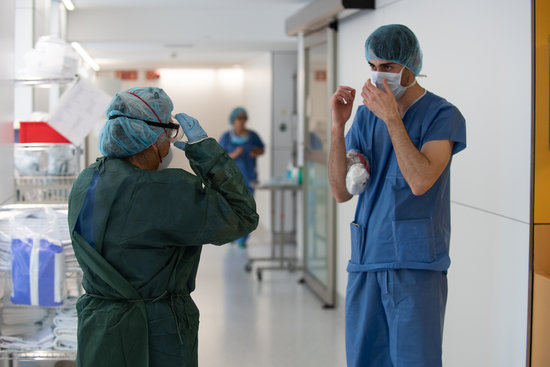 The Catalan health department has announced that it will be allocating four million euros to 19 different research projects aimed at preventing and treating covid-19.
The projects include treatments against the disease caused by coronavirus, such as plasma and antibody therapies, as well as clinical trials with new combinations of medication, or using medication that is already available commercially or for research purposes for other conditions.
There are also projects on vaccines, preventative treatments, and genetic and predictive studies, such as identifying virulence factors or the immune response of the population.
The results of some of these projects are hoped to be applied to the treatment of patients by the end of the year.
42 proposals in 3 weeks
Just three weeks ago a call was made for proposals, health minister Alba Vergés explained at a press conference on Tuesday, and the resulting 42 proposals were evaluated by experts from the Department of Health and the Catalan Agency for Health Quality and Assessment (AQuAS) and international advisers, with 19 then chosen to receive funding.
Vergés emphasized the "scientific excellence" of the projects in answering the needs arising from the pandemic, delivering what she called a "message of hope" during the hard reality of these past days and weeks. "The researchers in our country have not stopped," she added.
The projects were selected based on originality, scientific value, clarity and adequacy of objectives, robustness of the project and credibility of the proposed methodology; the impact that its implementation and applicability will have; the suitability of the budget, calendar, equipment and resources to the objectives; and the immediacy, feasibility and time of delivery to patients, with priority for projects with the fastest implementation.
"Since the onset of the covid-19 health crisis, researchers at Catalan research centers have been working around the clock to identify vaccines, treatments and other tools to help manage this crisis," said Jordi Naval, the head of Biocat, the organisation responsible for coordinating and promoting the life sciences sector in Catalonia.
For Naval, the "proactive and flexible nature of the Catalan research ecosystem has allowed us to obtain, in record time - since the initial deadline for submission of proposals was three days - a great response from the IRISCAT (Catalan Institutes for Health Research and Innovation) centers to the call, with projects of scientific excellence, led in many cases by internationally recognized researchers."