Breakthrough hip replacement surgery with no overnight stay
Operation at Barcelona's Hospital Clínic on July 7 was first of its kind in Catalonia or Spain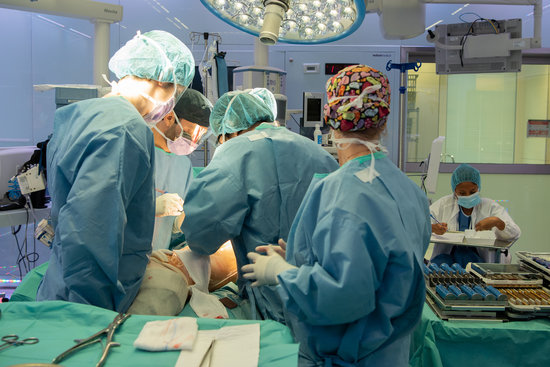 Barcelona's Hospital Clínic has successfully carried out a hip replacement without the need for an overnight stay, a first in Catalonia, and indeed Spain.
The hospital had already halved the average inpatient time of those having hip replacement surgery, down from seven days in 2013 to just 3.5 in 2019.
The operation took place on July 7 and was led by Jenaro Ángel Fernández-Valencia, head of the hip section in the Orthopedic Surgery and Traumatology Service. The patient has not had any complications.
Hospital Clínic performs about 350 hip replacements a year. The ideal profile for this type of operation without hospitalization is that of a young patient without any serious conditions.
Patient education, less invasive surgery and digital planning key
There are several factors that must come together to enable the hospital to discharge a patient on the same day following surgery of this type.
First is patient education. Prior to the operation they participate in a workshop to learn about the environment, the injury or illness, the admission process, the surgery itself, getting moving again (such as using crutches and going up and down stairs, and the longer recovery process.
Secondly, staff examine the patient to detect and treat possible anemia and thus reduce the risk of having to perform a blood transfusion - in 2013 30% of patients had a blood transfusion after receiving a hip implant, while it currently occurs in 2% of cases.
In addition, surgery is now less invasive. Since 2016, a technique has been used that allows the prosthesis to be implanted without cutting muscles or tendons and this allows for a quick recovery.
Finally, digital planning of the surgery allows medical staff to preview the difficulties of each case and to determine which implant to use and how to position it to optimize the biomechanics of the joint.
The patient is given medication to ease pain, nausea or vomiting, and dizziness when standing up. Of course, whether or not patients are able to be discharged is determined by how they feel and how the operation goes.
Total hip replacement (arthroplasty) is an operation aimed at replacing the hip joint that is damaged, usually by osteoarthritis. Surgery normally takes around an hour and a half.