Outrage as FC Barcelona women's team collects own Spanish Super Cup medals
Organizers claim ceremony followed "protocol" but social media users call for accountability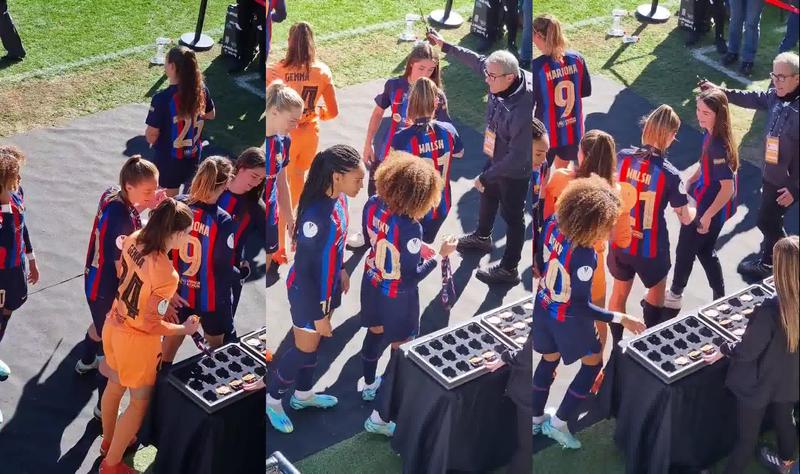 FC Barcelona women's team won Spain's Female Super Cup on Sunday after beating Real Sociedad 0-3. But the post-match awards ceremony sparked outrage on social media as players had to collect their own medals from a box after the match.
Videos on social media show how FC Barcelona (FCB) and Real Sociedad players queue up to pick up their medals themselves after the game.
No Spanish Royal Football Federation (RFEF) official was on the pitch, as they were all in the stands, and the medals were set on top of a table on the field.
After the outrage seen on social media, the organizers claimed that they had followed "protocols," in a statement published on their website.
"Given the large number of institutional representatives and the access to the VIP stand from the field, the protocol department decided to plan a ceremony in which the captain gets the trophy in the stands and the rest of the team gets the medals on the field," the text reads.
The RFEF even said this was the procedure at the male Copa del Rey King's cup, but social media users have proved this was not the case.
Other users have contrasted the award ceremony to that of the male team, as they received their trophy from the RFEF authorities.
Dozens of social media users urged FCB to ask RFEF to take accountability for the "pathetic" medal ceremony seen on the field, as Twitter user Fonsi Loaiza wrote on Sunday. Something that user Pablo agrees with as, for him, this is "ridiculous," and Barça should ask for an apology.
The ceremony took place after Aitana Bonmatí and Asisat Oshoala led the team to victory, with the former scoring two goals and the latter securing a last-minute goal in the added time.