Hotels and sports venues used as hospitals return to usual use
16 establishments prepare for tourists in Barcelona while sports venues are expected to open on June 22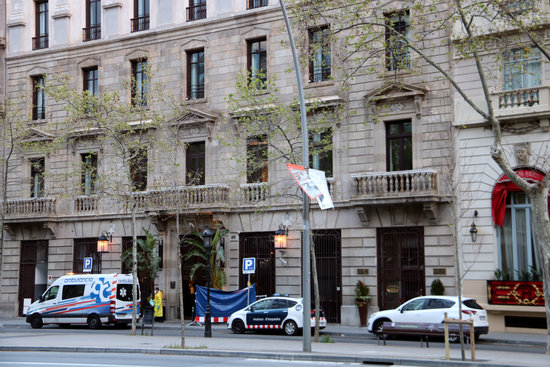 The hotels and sports venues that were used as hospitals during the peak of the Covid-19 health crisis are progressively returning to normal in Barcelona and across Catalonia.
Some 16 establishments were used as 'health hotels' in the Catalan capital when pressure on ICUs was at its highest.
The exceptional situation in hotels lasted over two months, but the sector's main in Barcelona, Gremi d'Hotels, confirmed to Catalan News that they no longer host patients or health professionals.
The weekend of May 30-31 was the last in which some rooms were still used for health purposes before venues began "in-depth disinfection procedures."
The first establishment used to relieve strain on hospitals, the Cotton House Hotel in Barcelona, will begin to reopen on June 17 and will accept guests from July 1.
The city's hotels are already allowed to welcome guests as the city is in de-escalation Phase 2.
2,500 rooms and 1,100 beds
Indeed, Gremi d'Hotels states that hotels provided around 2,500 rooms during the entire Covid period, with the association also offering 1,100 beds and mattresses so that hotels in the Barcelona region had enough for patients.
These beds were also used by the four sports centers that served to complement Barcelona's main hospitals.
Two of these medicalized venues, CEM Guinardó and Claror Marítim, are due to open once again on June 22. They used to serve Hospital de Sant Pau and Hospital del Mar, respectively.
Authorities have not yet disclosed their plans for the venues supporting Hospital Vall d'Hebron (CEM Olímpic) and Hospital Clínic (INEFC). Yet, CEM Olímpic's website states that it is going to open again as a sports center on June 22.
12 venues used as hospitals across Catalonia
Elsewhere in Catalonia, the situation is also progressively returning to normal. 12 other venues had been used by hospitals (mainly sports centers), but they are now also being taken apart.
Two centers in Vic, for instance, were closed as 'health hotels', while the Catalan health department is expected to do so in other cities, including Lleida, Girona and Manresa.
According to the government, most venues could be rearranged for medical centers once again in less than 48 hours in the event of another outbreak.
Some makeshift centers are expected to remain in place until the end of the year, such as the field hospital of Vallès Sud in Sabadell.
The government intends for Fira Salut, in the Fira Barcelona exhibition center's L'Hospitalet de Llobregat venue, to maintain its temporary hospital structures.