Government endorses joint Barcelona – Pyrenees bid for 2030 Winter Olympics
President Torra says event could be 'first green' games in history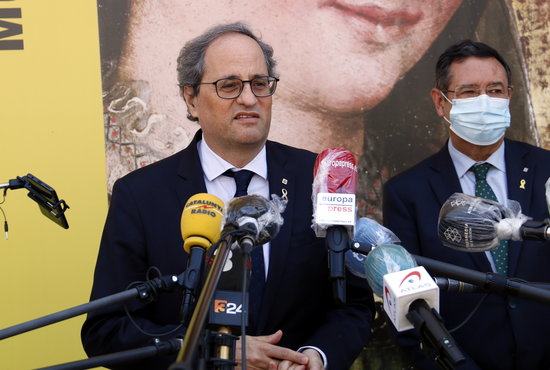 The Catalan government has endorsed a joint bid between Barcelona and the Catalan Pyrenees for the 2030 Winter Olympics.
The city that hosted the 1992 games first aimed to host the 2022 winter version of them, but the project was delayed twice. Authorities are now determined to place an official bid for the 2030 edition.
On Friday, President Quim Torra supported the bid and said that the games could be the "first green" ones in history.
The Catalan leader said that the project has been designed "with scrupulous respect for the environment."
According to Torra, the bid will be strong because of the 'Barcelona-Pyrenees' brand and also because it will be spread out within Catalonia as a whole.
"We would like for people to enjoy these landscapes and unique land with us," said the head of the Catalan government.
Torra added that the work to move forward and finalize the bid will resume soon after having been halted for months now due to Covid-19.
14 summits to promote games
Torra made the remarks during a live video call with a famous Catalan alpinist, Sergi Mingote, who has set out to climb 14 of the most iconic summits in Europe to promote the Barcelona-Pyrenees bid.
Torra and Mingote had a conversation on Friday while the mountaineer was on the Pica d'Estats, Catalonia's highest mountain (3,143 meters).
On his bicycle and with only five saddlebags, Mingote began a 7,200km-route on June 22 that will end on top of Mount Olympus, in Greece, sixty days later.
Before achieving his goal, Mingote will have climbed nine mountains in the Catalan and Aragonese Pyrenees, traveled from Barcelona to Sardinia and Corsica by ferry and continued his route through the French, Italian and Swiss Alps.
Before reaching Greece, he will also be in Croatia, Bosnia and Hercegovina, Montenegro, and Albania – 10 countries overall.