FC Barcelona Women wins fourth consecutive La Liga title
Team also classified for Champions League final in same week with Alexia Putellas returning to field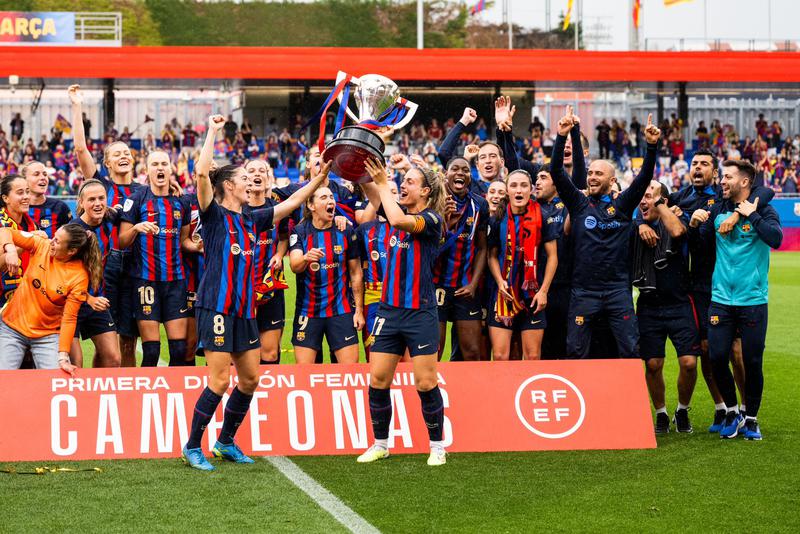 The FC Barcelona Women's team won its fourth consecutive La Liga title on Sunday after scoring 3-0 against Sporting de Huelva at the Estadi Johan Cruyff.
This triumph placed the Barça players as the winners of Liga F after a 100% record in the competition. Even though there are still four games to go in the season, the team won 26 matches of the 26 played, only conceding five goals and scoring 108.
Barça officials considered the feat "impressing," with the team leaving everyone marveling at "their attractive brand of football."
The win against Sporting de Huelva on Sunday was their 61st in a row in the league, a record that means the 'Blaugranes' are champions with games to spare.
This year, the team went 957 minutes without conceding a goal this season, just five minutes away from their record of 962.
With the win, the Barça Museum, one of the most visited in Catalonia, will have to make room for the eighth league title in the history of the Women's team, more than any other club in the Spanish Women's Football.
Alexia Putellas lifts trophy on return
Two-time Ballon d'Or and FIFA The Best winner Alexia Putellas was in charge of lifting the trophy after returning to the field after 299 days due to an ACL injury. Putellas entered at the minute 74 of the game.
Champions League final
The league win arrives in the same week as the win against Chelsea FC on Thursday, heading the team to its fourth UEFA Women's Champions League final in five years.
Although that day, Putellas player did not make it out on the field, it did not stop legions of fans from roaring "Alexia! Alexia! Alexia" in support before, during, and after the match.
On Thursday, the second leg of the European competition saw the teams tie 1-1 at the Catalan capital's Camp Nou stadium, attracting 72,262 people and making for a very festive atmosphere at the third-most attended match in the competition's history.