'Very serious blow' to drug trafficking explained
54 arrests, and large amounts of heroin, cocaine, ecstasy, weapons and money confiscated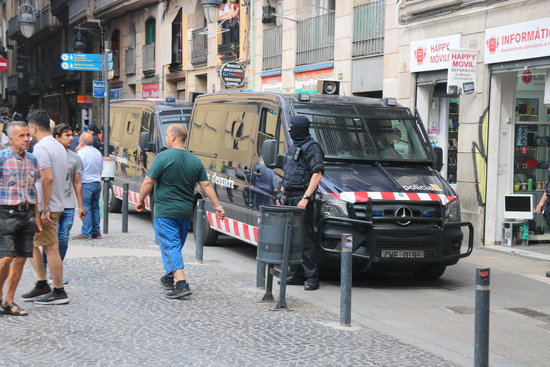 Drug trafficking in Barcelona has received a "very serious blow" on Thursday after the Catalan police led a large operation in the city center.
The home affairs minister, Miquel Buch, said that as a result of this move, the network of drug dealing flats, or 'narcopisos,' is now "going down" and residual in the Catalan capital. According to him, another large operation last October that saw some 40 of such apartments raided along with 55 arrests also contributed to cutting down their numbers.
But to what extent is Thursday's operation relevant?
The police arrested 54 people and identified 105 more in an attempt to dismantle a criminal network made up mostly of street sellers of Pakistani origin that illegally peddled drinks in the Catalan capital's Front Marítim and Ciutat Vella areas.
In the raids, officers seized 3.4 kg of heroin, 2.4 kg of cocaine and 2,233 ecstasy pills.
Some 47,000 euros were also confiscated, along with six bladed weapons and a fake one.
According to police sources, the street sellers offering tourists beer cans sell all types of illegal drugs, including those to improve sexual performance, such as Viagra. The sellers either carry the drugs on them or direct customers to a flat in the Raval to buy them.
The network of street sellers is also believed to be involved in distributing heroin to a regular clientele of drug addicts, say the same sources.
For months, neighbors have been complaining about empty apartments being occupied and used to sell drugs. These flats have become known as 'narcopisos', or 'narcoflats' in English.
The first blow to this scheme took place last October, when 700 Catalan police officers took part in a large operation, followed by this Thursday's that was joined by more than 1,000 officers.