Up to 10% drop in birth rate predicted due to pandemic
Instead of a baby boom, number of newborns nine months on from first lockdown is down 17.7%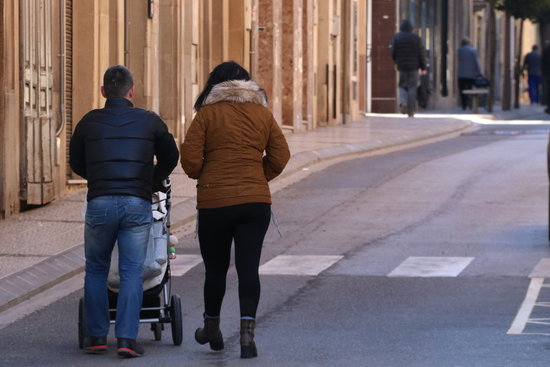 The Covid-19 pandemic could cause a 10% drop in Catalonia's birth rate.
The first available data on babies conceived during the health crisis – those born between December 2020 and February 2021 – shows a 17.7% fall compared to the same period the year before. Babies born during those months would have been conceived between March and May 2020, when Catalonia was in complete lockdown.
According to Toni López-Gay, a researcher at the Centre for Demographic Studies at the Autonomous University of Barcelona (UAB), by the end of the pandemic the birth rate will be end up being "between 10% lower" or "stable" compared to the previous period, while "nothing suggests there will be an increase in births."
"Instead of a baby boom, it seems like we're seeing the opposite." he tells Catalan News. "We'll have to see over the next few months if we are closer to the 10% drop or if the number approaches zero."
Similarities with the Spanish Civil War
Once all the official data is published in July, López-Gay believes that it is "very likely" that deaths will outnumber births in 2020 at a level "similar to the [Spanish] Civil War."
The increased death rate during the pandemic has accentuated a trend seen in 2018 and 2019 – more deaths than births, something that had no recent precedence.
Pre-pandemic fall in birth rate
A fall in the birth rate was already noted during 2020, something that can't be explained by Covid-19. López-Gay explains that the reason for that decline is that there are less people of child-bearing age. The number of people born "between 1987 and 1996" is lower than other generations, so there are there are now less people entering the period of their lives when they have higher fertility rates.
25% drop in January 2021
Preliminary data from Spain's National Statistics Institute (INE) estimates that the number of births for December 2020 (nine months on from the first lockdown) in Catalonia was 18.7% lower than December 2019, while the decline in November was 6.8%.
The downward trend was accentuated in January 2021, with a year-on-year decrease of 24.7%, while in February this year it relaxed to 8.5%.
Moving to the countryside
In terms of population shifts across Catalonia, Barcelona's population fell by 0.56%, but Tarragona's grew by 0.57%, Girona's by 0.40%, and Lleida's by 0.14%, with López-Gay commenting that this would prove that "a small part of the population has changed their residential habits" during the year of the pandemic, with a trend away from more urban areas to more rural ones.
"Changes won't be noticed in the big cities because few people left in relative terms, but from the point of view of rural areas, it can change the trend in demographics."