Two assailants of Catalan cultural center in Madrid enter prison
Far-right attack took place on Catalonia's 2013 National Day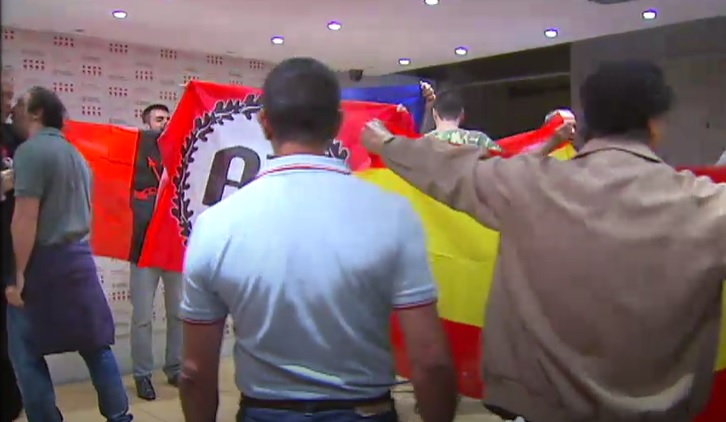 Two men who attacked a Catalan cultural center in Madrid have entered prison after Spain's Constitutional Court rejected their appeals.
José Pedro Cruz was imprisoned on Monday, and Íñigo Pérez de Herrasti followed on Tuesday, penitentiary sources told the Catalan News Agency (ACN).
The ruling affects another 12 attackers who, following Madrid High Court's decision on November 16, 2021, have to enter prison within a month. Currently, one of them is under a search warrant notice, another one had escaped but has been in jail since May, two others are expecting to be pardoned and the remainder are set to go to jail in the coming days.
The group of 14 far-right supporters were initially sentenced to prison terms of between six and eight months by Spain's National Court, but this was later raised to around four years, only to be reduced again after the Constitutional Court upheld some of their appeals, meaning the Supreme Court then had to resentence them.
In July 2020, the Supreme Court reduced the convictions for all 14 from around to between two years and seven months, and two years and nine months, after the Constitutional Court's decision in January 2020.
In addition, the High Court of Madrid has sent a letter to the Supreme Court to clarify the status of the pardon processes of two of the convicted, whose entry into prison have been suspended for now.
Previously, two of the group were missing from authorities and were subject to arrest warrants. One of them has already been arrested and is serving his sentence in an open prison in Madrid, while the other has not yet been found.
The Blanquerna assault
The attack on the Blanquerna Cultural Center in Madrid took place during a celebration of Catalonia's national day on September 11, 2013.
The men carrying far-right symbols stormed the center when the Catalan government delegate, Josep Maria Bosch Bessa, was about to speak. He was physically assaulted, as well as the then MP in Spain's Congress, Josep Sánchez Llibre. They destroyed the stage, threw the Catalan flag to the ground, and threw tear gas canisters before leaving a few minutes later.
They were carrying Spanish flags, and symbols related to the far-right and Francoist ideologies, and chanted "Catalonia is Spain."
One of the convicted is Manuel Andrino, the leader of Falange Española de las JONS, the political party of former dictator Francisco Franco, which is legal.