Twice as many quarantined school groups on third day of academic year
126 students and staff are Covid-positive while 801 must remain in isolation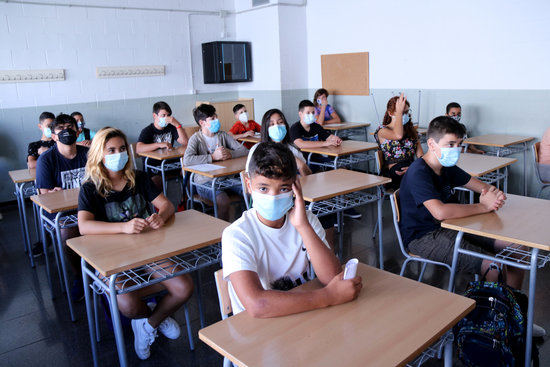 A total of 34 school groups have already been sent home from school and are in quarantine as of Wednesday, the third day of classes of the 2020-2021 academic year, up from the 17 seen a day prior.
In figures updated by the secretary of education, Núria Cuenca, on Wednesday, 54 students and 72 staff members at Catalan educational institutions have tested positive for Covid-19.
All in all, 285 members of staff and 516 students are in quarantine, and four schools have been closed, though only three of these have been shut because of the virus – the fourth has a serious wasp infestation.
Only 27 – 0.49% of all educational institutions in Catalonia – have been affected by partial quarantines or closures due to the pandemic.
Some 1.58 million students went back to school on Monday morning as the 2020-2021 school year kicked off after a six-month hiatus.
The academic year began with very visible Covid-19 restrictions in place at Catalonia's roughly 5,400 educational institutions, including compulsory face mask use for all students 6 and over, frequent hand washing, and temperature checks.
Quarantined school groups to be expected
News of these 34 homebound groups comes only days after the head of Catalan public schools, Josep González Cambray, warned that some students and teachers would very likely be testing positive and sent home throughout the school year in an interview with Catalunya Ràdio.
"There will be many positive cases among students and staff, but this does not mean schools haven't done their job," Cambray claimed, adding that teachers, students, and their families should be prepared to "cope with the virus."