Turmoil at Barcelona airport as Catalans protest leaders' prison sentences
Flights canceled and roads cut as thousands of pro-independence activists try to block major infrastructure in Catalonia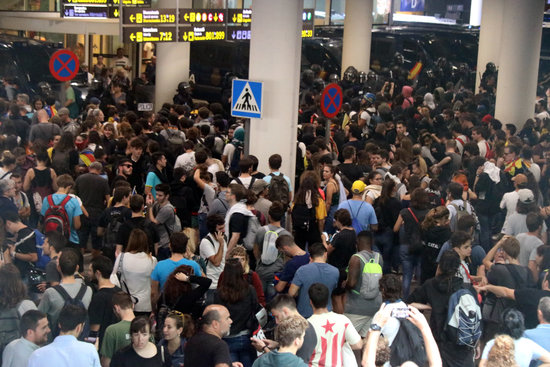 The airport of Barcelona was flooded with thousands of pro-independence protesters on Monday afternoon, who tried to block major infrastructure in Catalonia in response to lengthy prison sentences for sedition handed to nine leaders.
Over a hundred flights have already been canceled to destinations such as Madrid, Santander, Menorca, Ibiza, and Paris, among other cities, while several others were delayed.
Hundreds of police officers were deployed to guard the facilities and ensure that most passengers could take their flights. Police resorted to using their batons to charge some protesters, and even beat a French journalist.
The protest was announced early in the afternoon by Tsunami Democràtic (Democratic tsunami), the group created ad hoc to coordinate the response to the Supreme Court verdict for the politicians and activists who led the 2017 independence push.
At 6:30 pm, Tsunami Democràtic announced the next action: blocking the Barajas airport in Madrid. According to the group, 1,200 cars blocked the roads leading to the airport, but no incidents were reported.
"There are already thousands of us and we're being seen all around the world. But there needs to be more of us. Many more," tweeted Tsunami Democràtic. "We need to stop all activity so the world can see this injustice."
At 9 pm, Tsunami Democràtic released a statement read by football coach Pep Guardiola, calling on the international community to take a clear stance on the Catalan independence conflict.
An hour later, the pro-independence group called off the official protest at the airport of Barcelona, but thousands of protesters stayed there and continued to clash with police officers.
9 leaders sentenced for sedition
In a long-awaited verdict, the Spanish Supreme Court sentenced nine pro-independence leaders to serve between 9 and 13 years in jail, found guilty of sedition and in some cases misuse of funds.
The longest prison sentence was for Oriol Junqueras, the vice president of the Catalan government during the 2017 referendum and the subsequent declaration of independence, all deemed as illegal by Madrid authorities.