Tsunami Democràtic calls for 'massive' protest for Barça-Madrid clásico
The group complains about the clubs not agreeing to make their message "visible from the stands and the field"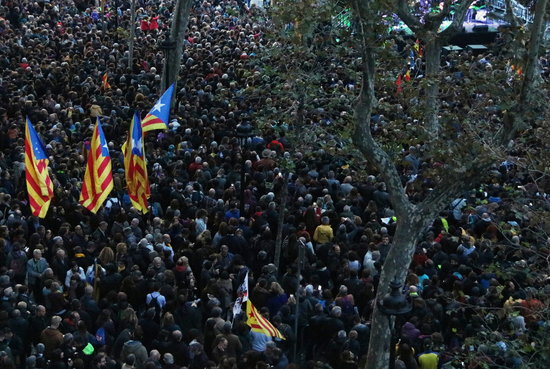 The protest group Tsunami Democràtic has called a "massive" concentration of people for the immediate surroundings of FC Barcelona's Camp Nou stadium for the clásico football match against Real Madrid on December 18.
The game is one of the biggest in world football, and every year gathers a global audience of hundreds of millions.
In a statement, the movement has complained of the "impossibility" of coming to an agreement with the clubs to make their message "visible from the stands and the field."
Tsunami Democràtic, who also organized the protest at Barcelona airport on the day the guilty verdicts were handed to Catalan independence leaders, want to use the match as a platform to launch an "appeal for dialogue," that they say "Spain ignores."
Specifically, the organized protest will have four meeting points surrounding the ground, with people from across Catalonia expected to gather at 4 pm, with the game kicking off at 8 pm.
According to Tsunami, more than 18,000 people have confirmed their attendance for the demonstration, and many of them have tickets to the game and "have already received the relevant slogans and have been organized to carry out the planned actions."
The protesters will be divided into four different spots in the streets surrounding the Camp Nou depending on which part of the country they are coming from.
Ciutadans' Carlos Carrizosa responded to the news of the scheduled protest by arguing that the Catalan government must safeguard the rights of those who wish to attend the clásico as well as of those who live in the area: "That is the Catalan government's responsibility."