Tsunami Democràtic announce 'most ambitious action' for after general election
''Let's prepare for a three-day long September 11,'' as group urges people to take days off work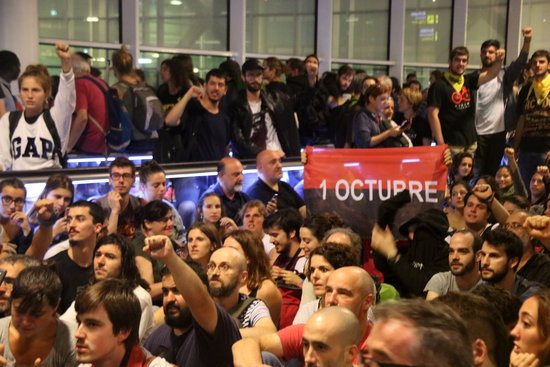 Pro-independence group Tsunami Democràtic have announced ''continued protests'' from November 11 to November 13, and although more details remain undisclosed, the group assures that it is the ''most ambitious action'' that they have proposed to date.
The group, which communicates via a group chat which now has nearly 394,000 subscribers on social media outlet Telegram, were behind the occupation of Barcelona airport that came to define the day on which the verdict to the Catalan trial, which sentenced nine of the independence leaders behind the 2017 referendum to nine to thirteen years in jail, was released.
Since the verdict was announced, there have been weeks of independence camp protests in Barcelona and across Catalonia, with the biggest coming on the Friday after the verdict was released, with 525,000 people flooding the streets of Barcelona after arriving from various cities in Catalonia.
Now, with a general election for Spain coming up on November 10, Tsunami Democràtic has urged its subscribers to take days off work from November 11-13 to prepare for a ''three-day long September 11,'' referring to Catalonia's National Day, which has hosted eight years of protests of as many as 1.8 million people.
The group have urged its subscribers to be willing to travel throughout Catalonia and if possible, spend nights away from home.
''Prepare your wardrobe, extra phone batteries, food, a sleeping bag, a tent and a tenaciously non-violent attitude,'' they added.
They also presented action for the day of reflection on Saturday - the day before a general election on which no political campaigning can take place - as a ''test'' for the three days of continued protests.
Tsunami Democràtic stay strong despite digital decree
Indeed, the protests organized by various independence organizations so far have caused Pedro Sánchez and his government to take preventative measures.
He sent thousands of police officers to Catalonia and since then over 30 people have been arrested for actions in the protests. Most recently, on Tuesday, the Spanish government passed a decree to limit and shut down social media networks and websites over ''public order threats.''
Nevertheless, Tsunami Democràtic have urged its subscribers to be resilient. They have encouraged users to download the latest version of the app as a measure of ''security against attacks,'' whilst they have also added that "people will continue to demonstrate and show their strength, no matter what the election results are, and how many times they are held".
As of November 9, the group have said that every action will be announced via Telegram, Twitter and Instagram.
'Day of reflection' events planned
The day before elections in Spain, there is a blackout period for the so-called 'day of reflection,' when no campaigning can be done. However, while political rallies are forbidden on this day, a 2010 Constitutional Court ruling permits demonstrations as long as their capacity to influence the vote is "remote."
Tsunami Democràtic has confirmed that it has planned "hundreds" of "culture and protest" activities in over 200 cities throughout Catalonia and a few in the Balearic Islands for the day before the general election.
Concerts and poetry readings have been organized, and activists will also be leading workshops on social rights and freedoms.cc