'Tourist go home': Can Barcelona's old town take any more visitors?
Ciutat Vella struggles with delicate balance between social, environmental, and economic interests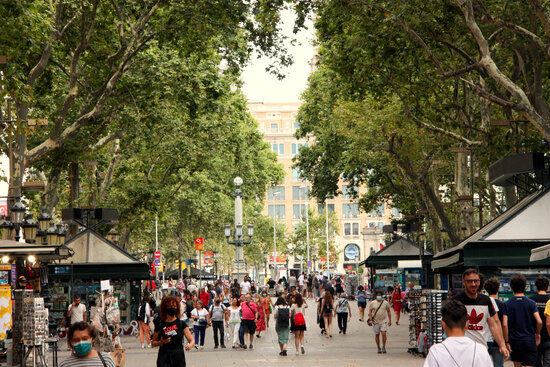 Barcelona has long been one of southern Europe's top tourist destinations, with around 8.5 million visitors in 2019 alone. And as most Covid restrictions are lifted and travel picks up, tourists are once again flocking to the city center's old narrow streets and alleyways.
"It's a very beautiful city," Michael, an 18-year-old from Antwerp, told Catalan News from La Rambla boulevard, a street visitors love and locals often try to avoid at all costs. "The people here are nice, it's beautiful, I like the weather."
Dan, a tourist from Florida who said he came out of "boredom," described the city as "fairly nice" and was impressed by its public transport system, but said he wished more people spoke English for his "convenience."
Indeed, Barcelona as a whole and its Ciutat Vella district, home to the Gothic Quarter, Born, and Raval, in particular, have long struggled to grapple with the delicate balance between catering to the "convenience" of visitors and the businesses that benefit from them, on the one hand, and considering the needs of residents who do not have a stake in the industry, as well as the environment, on the other.
"We live off of tourism. If there are no tourists…"
In a city where tourism accounts for around 15% of the GDP and employs some 115,000 people, has its return been good for business?
Guillem, who works at an ice cream parlor on La Rambla seems to think so. It's a simple equation: whenever cruise ships arrive, "a lot of people come" and his shop "sells a lot more on those days," he explained. He's not alone: Catalonia's hotel and restaurant associations believe the end of travel restrictions augurs well for them.
Maite, a shopkeeper at the Gothic Quarter's 'Some Day…' clothing store, expressed a more nuanced view.
"Here in the city center, we live off of tourism. If there are no tourists…" her voice trailed off. "We would prefer 'quality tourists' who spend money, not those who are here to party or who just spend a day here," she added, acknowledging that it must be a "difficult" issue for the council.
Some stores are still struggling, however, and say there aren't as many visitors as before the pandemic due, in part, to inflation. "The price of the hotels and everything is very expensive," said Jobanjeet, who works at a Ciutat Vella souvenir shop not far from Maite's store.
Gentrification, crowds, and noise
Daniel Pardo is a long-time Ciutat Vella resident. A member of the Gothic Quarter's neighbors' association as well as the Tourism Degrowth Assembly, he works at the 'Caixa d'Eines i Feines', a 'library' where, instead of books, people can go to borrow tools or find out about services provided by local professionals, from plumbers to electricians or photographers.
"I was just at the eviction attempt of a low-income woman," Pardo told Catalan News, explaining why he was a few minutes late to the interview. "Luckily enough we were able to stop it - or, rather, postpone it - to September 14."
Although noisy, crowded, streets are frustrating, he says the "more visible effects" of mass tourism are not its most serious: "Evictions like the one we just saw earlier are." Tourism - and tourist apartments - in trendy, gentrified, neighborhoods bring up the cost of living, gradually forcing locals out.
Yet Covid, he said, offered a glimpse into what life in the neighborhood could be like without so many visitors: "In the Gothic Quarter, urban spaces were used mainly by neighbors and we would see kids playing in [tourist hotspots like] Plaça Reial or in front of the cathedral."
Ciutat Vella was quieter and the stores that stayed open had to cater to locals to get by. But now that restrictions have been lifted and tourists are back, the city's gone back to business as usual.
Pardo is far from the only person voicing complaints. Tourism should "probably be regulated a bit," Isabel, a fellow Ciutat Vella resident, told Catalan News while walking her dog near the Picasso Museum. "It bothers me that there are so many people and I have to find streets that aren't as busy."
Juan, another local Catalan News spoke with, had a similar list of complaints. "There are a lot of people and you can't walk in the streets," he said. "It's always dirty, you wake up and the streets are filthy, people make a lot of noise at night…"
Precarious working conditions and pollution
And as much as tourism may have become an essential pillar of Barcelona's economy in the years since the 1992 summer Olympics, activists like Pardo call for greater diversification, especially given the industry's poor working conditions - long, exhausting hours, many of them paid under the table - as well as the amount of waste and pollution it generates.
Take the Boqueria Market, for example. A tourist favorite on la Rambla, from a distance it might look like many other neighborhood markets - except, of course, for the fact that it is usually packed. But upon closer inspection, the products it sells are not basic necessities but clearly geared towards visitors: fruit smoothies, jams in flight-sized jars, bull-shaped sangria bottles… On the day Catalan News reporters visited the market, nearby trash cans were overflowing with disposable plastic cups that had very recently held exotic fruit juices.
Cruises are another source of concern for the industry's detractors - in 2019, the Barcelona port, located right beside the city's old town, was named Europe's most cruise-polluted by Transport & Environment - while environmentalists have also strongly opposed plans that have since been ditched to expand the Barcelona airport as doing so would have destroyed the La Ricarda lagoon nature reserve and increased the number of flights arriving on a daily basis
With this in mind, can tourism in its current form be considered sustainable? Or is the city itself sustainable, for that matter? Is there a formula that residents, authorities, and businesses alike could possibly see eye to eye on? Barcelona is still far from figuring it out.